In a dispute over pay, unionized employees at an Amazon fulfillment center have announced additional strikes.
The Coventry warehouse's 350 employees were the first in the UK to protest the huge online retailer last month.
Though the GMB union is not recognized by Amazon, it is calling for a pay increase from £10.50 to £15 an hour.
Amazon previously claimed that in addition to other benefits, it provided competitive pay that had increased by 29% since 2018.
Because the tech giant does not recognise the union, it does not enter pay negotiations with its representatives.
GMB announced further strike dates to the employer at 13:00 GMT. On February 28, March 2, and for one week between March 13 and March 17, there will be a strike.
The union branded Amazon's 5 percent pay rise offer, worth about 50p an hour, "derisory" and workers also spoke to the BBC about "severe" conditions including constant monitoring and having toilet breaks timed.
Amazon said its "performance management tool" was paused when employees were not logged in at their station.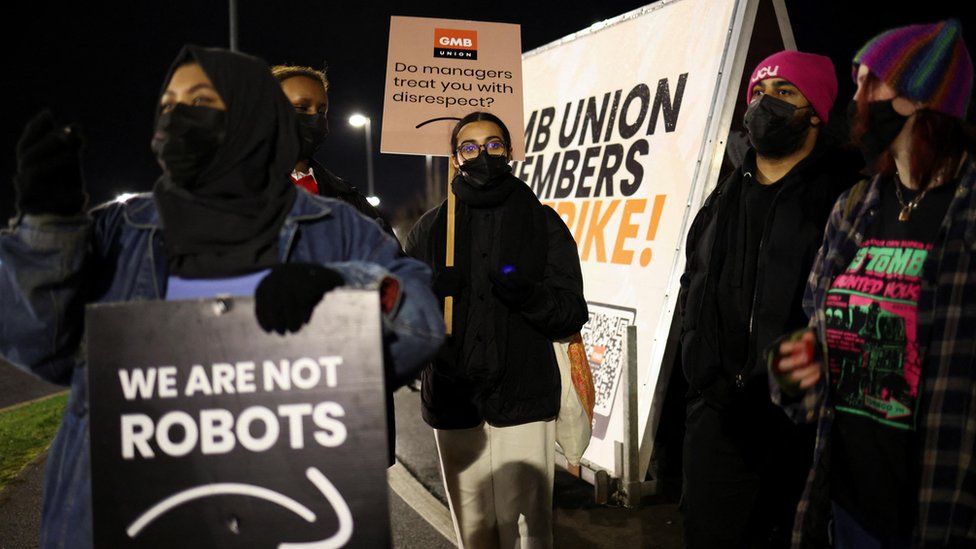 About 1,500 people are employed at the Coventry site, where Amazon stock is scanned and sent out to fulfilment centres to then be shipped to consumers.
When employees based there walked out on 25 January, they became the first Amazon workers to strike in the UK.
The GMB union is also holding discussions about whether to ballot about 200 of its members working at Amazon's centre in Tilbury, Essex, for strike action.
Amazon's global sales and profits soared as Covid restrictions forced people to shop online.  Between 2019 and 2020, profits nearly doubled to $21.3bn (£17.2bn) and rose again the following year to $33.3bn.
However, on 5 January it announced plans to cut more than 18,000 jobs worldwide to save costs.