April will see an increase in the average domestic energy bill, but forecasts of future decreases may encourage customer switching and the return of competition.
Currently, a government guarantee limits the annual gas and electricity bill for a typical home to £2,500 while also providing a further £400 discount.
In April, the ceiling will increase to £3,000, but based on projections, the ceiling will soon become obsolete.
According to analysts Cornwall Insight, the average bill will return to £2,153 in July.
The energy consultancy anticipates that for the remainder of the year, the average household's annual bill will stay around that amount.
Craig Lowrey, principal consultant at Cornwall Insight, said: "While tumbling cap projections are a positive, unfortunately, already stretched households will be seeing little benefit before July.".
He did, however, assert that later in the year, depending on the environment, "the return of competitive tariffs" might occur, giving consumers the opportunity to "take back some control over their energy bills.".
Similar to Cornwall Insight, investment firm Investec has predicted falling energy prices will result in lower overall government subsidies for energy bills than had been anticipated.
Campaigners and consumer advocacy organizations have urged ministers to use the savings to provide additional assistance to billpayers. The current government guarantee has been requested to be extended by three months by the Labour Party.
Recent weeks have seen a sharp decline in wholesale gas and electricity prices, which has inspired optimism that the worst of the energy crisis may be passing.
In the UK, a large percentage of households use a variable or default gas and electricity tariff. In England, Wales, and Scotland, the cost of energy is capped at a price that the energy regulator, Ofgem, deems to be reasonable. Every three months, the cap is determined.
Due to the significant expenses suppliers faced, starting in January, a household using the average amount of gas and electricity would have been required to pay £4,279 annually.
Therefore, the government intervened to partially defray those expenses for citizens of the UK. Due to its Energy Price Guarantee (EPG), the average household currently pays £2,500 annually, which will increase to £3,000 annually in April.
On the bills that people had become accustomed to, that is still a significant increase. Winter 2021–2022 saw an average annual bill of £1,277 and frequent supplier changes in search of better fixed-price offers.
The more vulnerable are primarily helped by additional cost-of-living payments with these higher costs.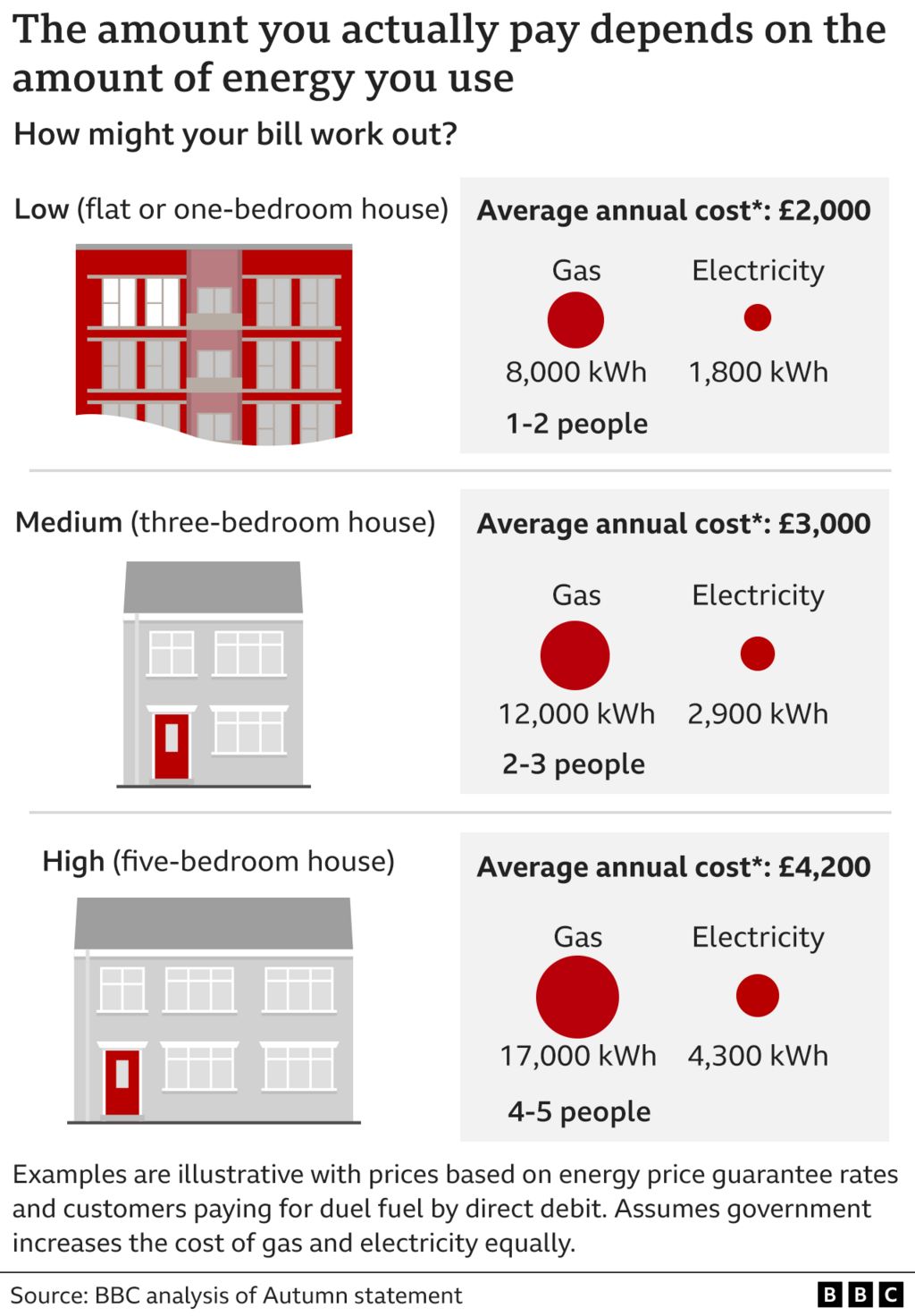 Without an EPG, a typical household's annual bill in April, according to Cornwall Insight, would be £3,295. Investec predicted a price of £3,332.
The regulator Ofgem will release the precise figure on Monday following this week.
Due to the EPG's cap on their costs, this will be largely irrelevant for households. The amount that the government must pay to compensate suppliers by capping domestic bills, and ultimately taxpayers, is crucial.
According to Cornwall Insight, the estimated cost to the government would be £26.8 billion if the EPG were to rise to £3,000 as planned. The estimated cost would be £29.4 billion if it stayed at £2,000.
At the upcoming Budget, the government will decide whether or not to abandon plans to raise the EPG limit to £3,000. Chancellor Jeremy Hunt, however, earlier this month told the BBC that households were unlikely to receive additional assistance with energy bills starting in April.
However, he did not believe that the government had the "headroom to make a major new initiative to help people." He stated that the Treasury kept all support "under review.".
A number of poverty charities agreed with consumer finance expert Martin Lewis that approving the bill increase in April would be a "national act of harm."