Please refrain from touching the artwork.
Every now and then, we are reminded of the importance of these signs in galleries around the world.
On Thursday night, when a collector unintentionally dropped a $42,000 (£34,870) sculpture by US pop artist Jeff Koons to the ground, art enthusiasts in Miami gasped in horror.
Witnesses at the incident claimed that she had touched it with her finger.
One of Jeff Koons' famous Dog Balloon statues broke into tiny shards, which gallery staff had to sweep into dustpans.
The mishap occurred on the VIP-only opening night of the annual Miami, Florida, contemporary art fair, Art Wynwood.
According to local artist Stephen Gamson, the sculpture was knocked off its pedestal by an "older woman" as he was admiring it.
He initially questioned whether it was an act (Banksy, anyone?) but quickly realized it had been an accident.
According to Mr. Gamson, "when this thing fell to the ground, it was like how a car accident draws a huge crowd on the highway.".
Fortunately for the woman, the sculpture is insured, according to Bénédicte Caluch, an art consultant with Bel-Air Fine Art galleries, which is the sculpture's representative.
According to Ms. Caluch, "It was an event.". "Everyone arrived to witness the events. ".
She also mentioned that the unnamed woman who caused the damage was an art collector.
According to Cédric Boero, who also works for Bel-Air Fine Art galleries, "life just stopped for 15 minutes with everyone around.".
He continued by saying that after speaking with a colleague, the woman expressed her regret and stated that she "just wanted to disappear.".
The sculpture was one of a limited run that was originally 799 but is now 798.
Mr. Boero joked to the Times, "That's good for the collectors.".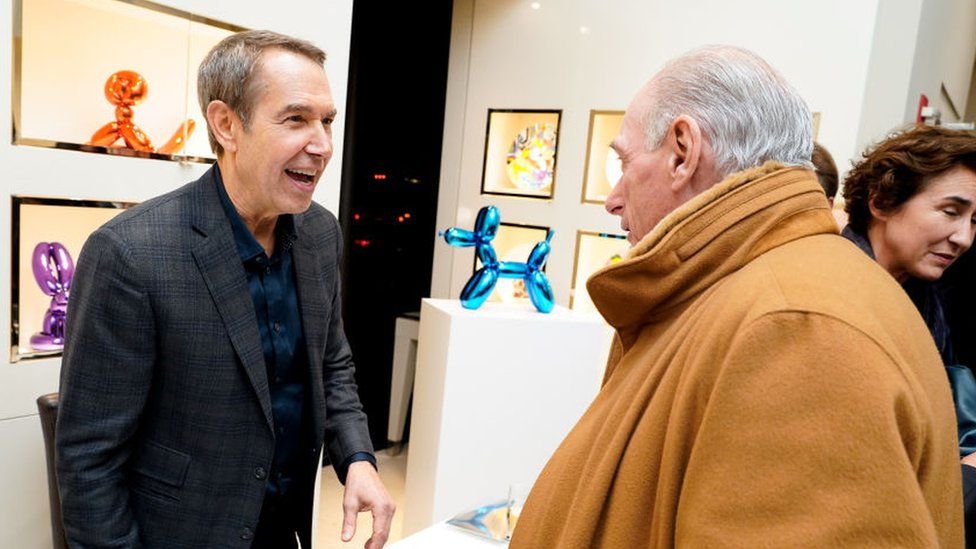 Even though the sculpture was destroyed and broken into thousands of pieces, there is still interest in purchasing it.
Because it "has a really cool story," as Mr. Gamson stated on his Instagram account, he offered to buy it there and then.
The 68-year-old Jeff Koons has not commented on the incident.
His collection of Balloon Dog sculptures, which have sold for tens of millions of dollars, is among the most recognizable examples of modern art.
Some are huge, reaching heights of up to 10 feet (3 meters), but this unfortunate one was only a puppy at 16 inches (40 cm) tall.
They have been displayed in galleries all over the world, and Jay-Z further popularized them in 2017 when he collaborated with Koons to design a 40-foot-tall inflatable Balloon Dog for a stage prop.
When Koons' Rabbit sculpture sold at auction in 2019 for $91.1 million (£71 million), the highest sale price ever for a living artist, he made history.