The BBC has announced that Vernon Kay will take over for presenter Ken Bruce in his weekday mid-morning slot on Radio 2.
After 31 years in the position, Bruce announced on air in January that he would be leaving the station.
Bruce told BBC News that Vernon is "a lovely guy, and I wish him all the best," adding that he "wouldn't dare give anyone else tips about broadcasting.".
Taking over the program, according to Kay, who is best known for hosting ITV's All Star Family Fortunes, was "a dream come true.".
In a statement, he added, "And what an honor to follow in the footsteps of the mighty Ken Bruce.". "I'm ecstatic to have been given the microphone. ".
The 48-year-old currently hosts Radio 2's Dance Sounds of the 90s after hosting his own programs on Radio 1 and Radio X in the past.
The new show for Kay, who is wed to Tess Daly, a presenter on Strictly Come Dancing, will debut in May.
The time between Bruce's departure on March 3 and Kay's debut performance will be filled by DJ Gary Davies.
According to data from the industry group Rajar, the mid-morning show, known for its daily Popmaster quiz, has more than 8.5 million weekly listeners at the moment.
When Bruce switches to Greatest Hits Radio, a competing commercial station, he will bring the Popmaster format with him.
His departure comes soon after Steve Wright's, ending a 23-year run as the afternoon host of Radio 2. Wright emphasized that he was not retiring and that his Sunday morning show would continue.
Bruce is replaced by Kay. According to recent data from industry group Rajar, Bruce's program, known for its daily Popmaster quiz, currently has more than 8.5 million weekly listeners.
Popular presenters Paul O'Grady and Vanessa Feltz are two more who have recently left the station.
Wright was replaced by Scott Mills, and Rob Beckett now hosts in O'Grady's place.
After Feltz left, Cardiff-based weather presenter Owain Wyn Evans took over as host of the early morning program.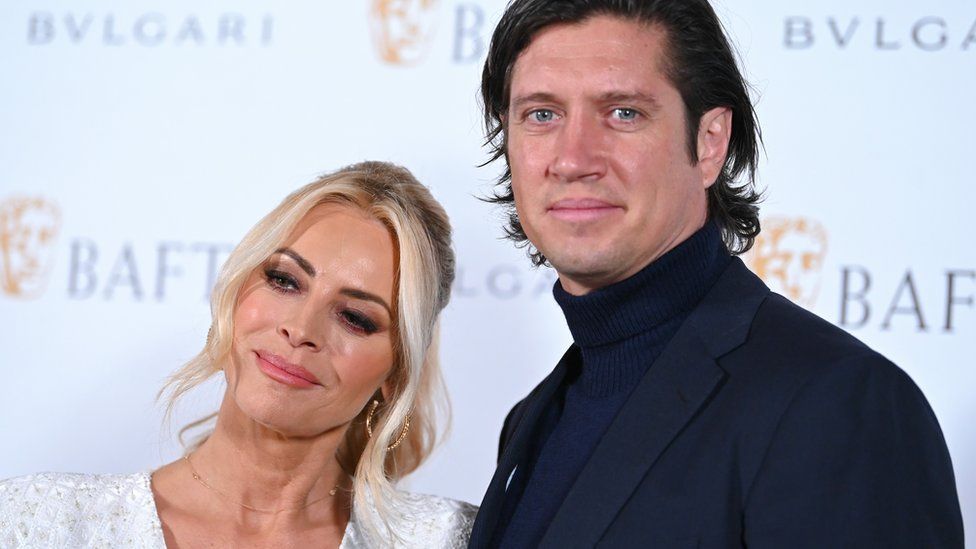 The 48-year-old presenter, who is from Bolton, started his career as a model before moving on to host links on Channel 4's teen-oriented T4 strand.
He transitioned into radio, hosting his own show on BBC Radio 1 from 2004 to 2012. He then hosted the mid-morning show on Radio X from 2015 to 2017.
The TV and radio personality also oversaw two seasons of Beat the Star from 2008 to 2009 and the celebrity-themed game show All Star Family Fortunes on ITV from 2006 to 2015.
He and Caroline Flack co-hosted the ITV game show The Whole 19 Yards in 2010. The British host of the six-part US television series Skating with the Stars that same year.
Kay, who has played American football and has been a fan since he was young, hosted The American Football Show on Channel 4 in 2013. Additionally, he has been presenting live Formula E coverage since the 2018–19 season began.
He co-hosted the celebrity diving program Splash! with Gabby Logan from 2013 to 2014, where Team GB Olympic gold medalist diver Tom Daley served as a mentor to the pool-bound stars.
He was a sporadic substitute presenter on This Morning and The One Show, and he came in third on I'm a Celebrity. Get Me Out of Here! in 2020, after Giovanna Fletcher, the eventual winner, and fellow broadcaster Jordan North.
Along with the Masked Singer, he has appeared on shows like Shooting Stars, Bo Selecta!, and Would I Lie To You? over the years. He appeared in Shaun of the Dead among other movies.
Speaking to BBC News in 2021, Kay said he felt "shackled" using an autocue and that it was more his style to prepare before shows and then "have a laugh in the studio." This was around the time of the launch of his new ITV series Game of Talents.
Bruce joined the BBC in 1977 and began hosting Radio 2 regularly in 1984, making him one of the station's longest-tenured personalities.
The 72-year-old Scotsman, who has also hosted the station's coverage of the Eurovision Song Contest since 1988, will air his final program in March.
He stated last month that he had "a tremendously happy time" but that it was "time for a change" and that he had "decided the time is right for me to move on from Radio 2.".
Kay has been a "hugely talented, warm and witty host" who has "already proven himself to be a firm favorite with our listeners when he's presented many and varied shows across the station," according to Helen Thomas, head of Radio 2. She added that the station was "thrilled" to welcome him on board permanently.
Other plans made public by the station on Friday include a Cerys Matthews-hosted Van Morrison Blues Show special, Tony Blackburn spinning Easter soul specials, and the Jazz Show with Jamie Cullum honoring Nina Simone's music.
While Jo Whiley will honor the 12" single in a new documentary, listeners will also be treated to a Country Music Season to mark the station's official connection to the Country 2 Country Music Festival.