An NHS physician who confronted pro-life protesters who had gathered close to his hospital claims that they are "bullying" women who are trying to access healthcare.
This week, Dr. Greg Irwin faced opposition on a 40-day "vigil" in front of Glasgow's Royal Hospital for Children.
The group is connected to the American anti-abortion group 40 Days of Life.
In Scotland, a law allowing "buffer zones" that would stop protesters from congregating close to medical facilities is anticipated.
The paediatric radiologist Dr. Irwin, who left his hospital to address the group, was featured on the front pages of Scottish newspapers on Wednesday.
I tried to explain the impact of the protest to a new protestor, a middle-aged man I hadn't seen before, he said.
"I told him it was upsetting patients and staff, and I asked him to consider whether this was what he should be doing.
"I asked him not to bring up the protest again, and I shook his hand at the conclusion of our one-sided conversation, so hopefully he will realize that I was sincere. ".
The group initially started demonstrating in front of Glasgow's Queen Elizabeth University Hospital. back six or seven years.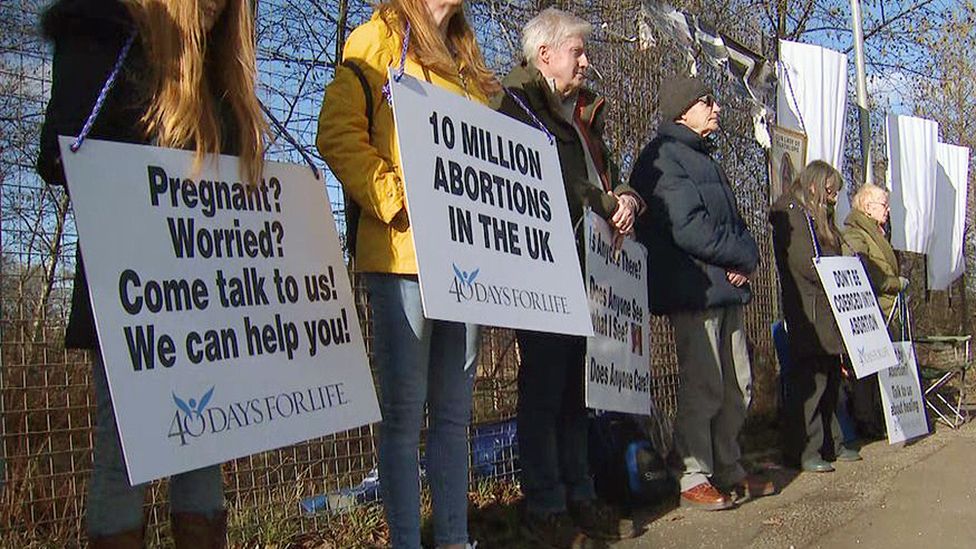 Dr. Irwin claimed he had previously questioned the group but had always been given the same canned response that they were "holding a vigil" or "trying to help women.".
The main result of the protests, he continued, "is to upset staff members and patients emotionally.
"One in three women will seek medical abortion assistance, so judgmental demonstrations at the hospital's entrance have a real and unpleasant impact, especially on this staff.
But they also have an impact on other staff members, including myself, who find it upsetting to know that there are protesters intimidating patients as they enter the hospital.
"It bothers me throughout the protest period because it's such an unbelievable cruel and unkind thing to do. ".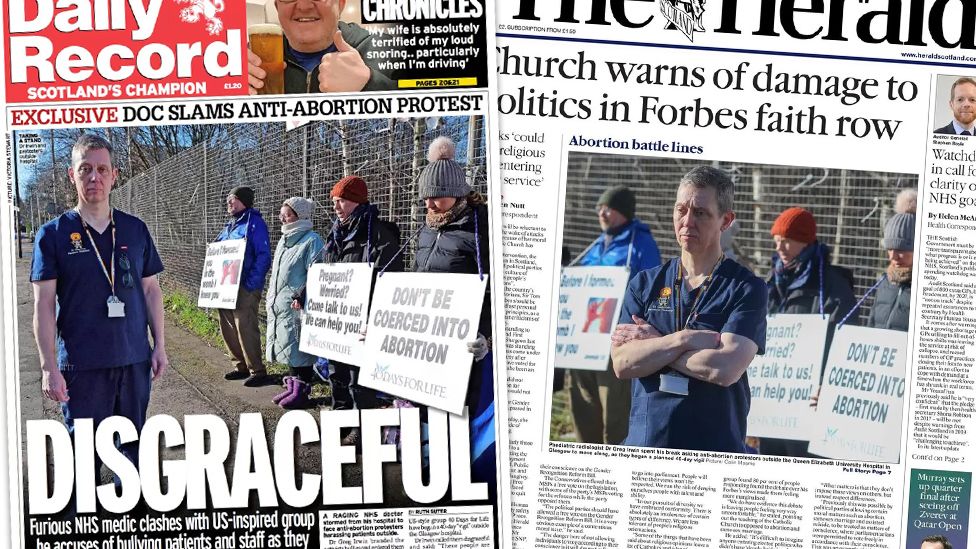 A Supreme Court decision in December opened the door for a new law establishing safe access zones outside abortion clinics in Scotland.
The court determined that Northern Ireland's legislation establishing such zones did not "disproportionately interfere" with protesters' rights.
Then-Minister of Women's Health Maree Todd predicted that Scottish legislation would be approved as soon as possible.
The UK's Northern Ireland region was the first to pass legislation establishing buffer zones around abortion clinics.
The Abortion Services Safe Access Zones (Scotland) Bill, which Gillian Mackay, a Scottish Green MSP, has been fighting for, has the support of the Scottish government.
In order to provide women with access to services without fear, harassment, or intimidation, it would be possible to create zones outside of health facilities that are 150m (492ft) in length.
An anti-abortion group in the US previously declared that it would support the legal challenge.
The anti-buffer zone advocacy group ADF UK has urged for the bill to be "the most fairly balanced it can be.".
Similar proposals for safe access zones were supported by MPs in England and Wales in October, but they are still being debated in Parliament.
Vigils are organized globally by the campaign organization 40 Days for Life, which has its headquarters in the US. .
One of 12 protests taking place in the UK, the one in Glasgow is set to end on April 2.