Prof. Paul Elkington recalls that as soon as the coronavirus pandemic began, it became clear that he and his colleagues would soon run out of PPE (personal protective equipment).
As a lung specialist at University Hospital Southampton, Prof. Elkington admits, "By mid-March 2020, we realized the process we had to protect our staff was not going to be sustainable.".
"At first, we wore disposable FFP3 masks, gowns, and visors, but after a few weeks, it became clear that we wouldn't be able to keep up with those supplies. " .
Due to the urgent need for PPE caused by the global spread of the airborne coronavirus, supply chains were severely overloaded, and many nations had to ration supplies.
In the UK, medical professionals like Prof. Elkington had to improvise. His team developed the PeRSo, a portable, battery-powered respirator that is worn over the head like a hood and has a clear window.
It operates by sterilizing incoming air using a replaceable hepa (high-efficiency particulate absorbing) filter, which costs around £225 per unit and is portable and reusable.
Over time, it became obvious that PeRSo was more economical than disposable PPE in addition to being more comfortable and effective.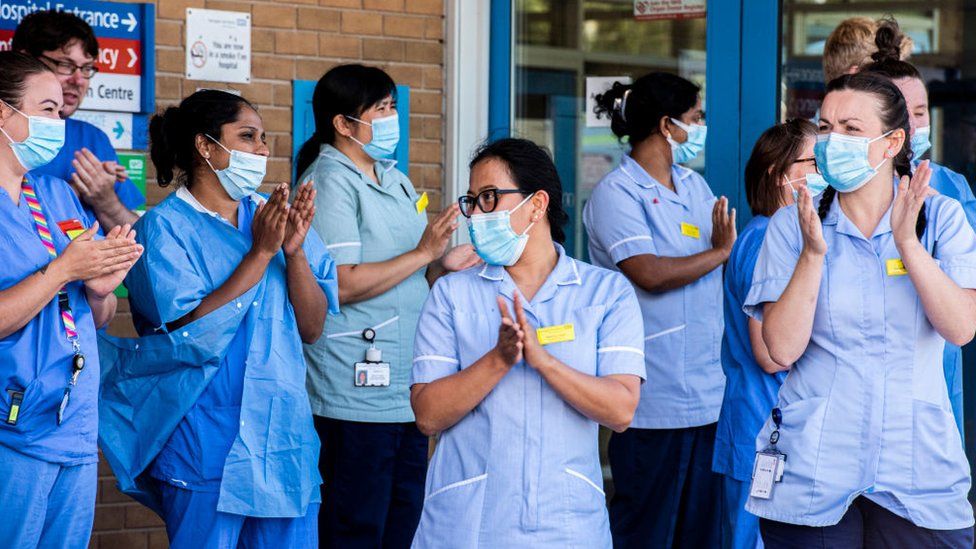 16 other NHS trusts in addition to Southampton used the PeRSo respirator. Importantly, staff absences were significantly lower at Prof. Elkington's hospital than they were nationwide.
He and a coworker, Prof. Hywel Morgan, later shared an MBE for creating the respirator, but in spite of discussions with Dyson, they chose not to patent their invention. Instead, they made it open source by posting the design online so that others could copy it in, for example, South Africa.
In 2023, providing PPE is still a "deeply emotive issue" for everyone because "so many people got burned," according to a senior NHS manager who asked to remain anonymous.
He specifically mentions how purchasing managers were forced to pay exorbitant prices for products, many of which were made in China, at the height of the crisis, some of which turned out to be subpar or even fake.
According to research, the NHS used three billion PPE items in the first six months of the crisis alone.
Although PPE purchased during the pandemic cost £673 million, the Department for Health and Social Care accounts for 2020–21 show that £750 million of equipment was not used before its expiration date.
According to Willy Shih, the Robert and Jane Cizik Professor of Management Practice at Harvard Business School and expert on international supply chains, relying solely on one source nation was always a terrible risk.
According to him, the main issue with PPE is that "governments don't buy until they really urgently need it. Demand fluctuates greatly. ".
Prof. Shih favors the development of national stockpiles or strategic reserves.
Additionally, he emphasizes that maintaining a warm and functional manufacturing facility costs money if you want to maintain the available domestic manufacturing capacity.
In addition to the environmental cost, it is exorbitantly expensive to ship disposable PPE from China, store it in warehouses, and dispose of the waste after it has been used.
The best approach to solving this issue, according to research from sustainability experts like Chantelle Rizan, clinical lecturer in sustainable healthcare at Brighton and Sussex Medical School, is a three-pronged approach.
First, by drastically cutting down on the use of gloves and increasing hand washing instead. Adding to this the localization of PPE production and, most importantly, expanding the use or recycling of items like masks and gowns.
More of the BBC's series on trade from a global perspective.
According to Dr. Tom Dawson, disposable plastics quickly replaced the cotton drapes and gowns used in hospital operating rooms up until around 2004.
He established the reusable medical textile company Revolution-ZERO in May 2020. He is a former emergency medicine physician.
Dr. Dawson says it was difficult to witness the "PPE chaos of the pandemic and the inevitable deaths that followed.". He created a complete line of reusable gowns, aprons, surgeons' drapes, and caps in response.
His textile products, which are typically made of polyester or cotton, cost between £4 and £50 for specialized draping systems. They can be sterilized at 134°C and then used several times before being transformed into other medical supplies, like screens.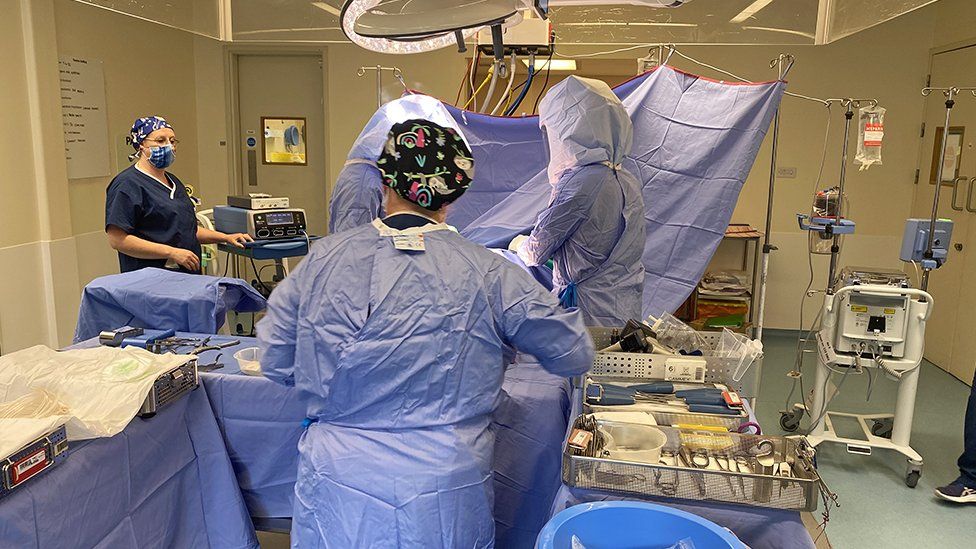 But because most hospitals no longer have on-site laundry facilities because everything has been outsourced, switching from disposable to reusable items is not a simple fix for them.
Dr. Dawson is therefore working to construct the company's own decontamination units and laundries that are on or near healthcare sites despite 150 trusts' enthusiastic interest in him.
In Cornwall, one such facility is scheduled to open in April. The company has currently sold goods worth more than £300,000. Additionally, the international medical aid organization Médecins Sans Frontières will soon use Revolution-ZERO's products for its operations in Kyrgyzstan and Mozambique.
But what can medical facilities do with used PPE waste made of plastic? that's where Welsh company Thermal Compaction Group comes in.
At temperatures above 300C, its machines—which are roughly the size of a US fridge-freezer—melt down used PPE made of plastic. After that, the plastic is cooled and compressed to form solid blocks.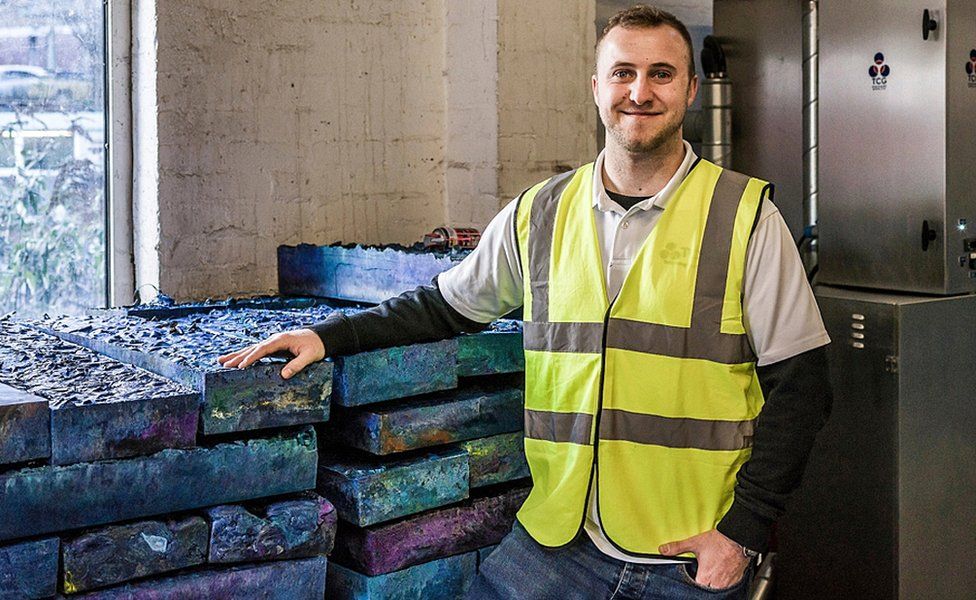 Then, hospitals can market these blocks to businesses that will use them to create new plastic goods like buckets.
More than 100 units have been sold by the company, mostly in the UK but also in Australia and the Netherlands. It is also about to sign a contract with the US Navy, which wants to modify its units so they can be used on warships.
While some clients purchase the processing units, others opt to rent them. Depending on the volume and equipment required, a typical hospital may pay anywhere from £1,000 to £2,500 per month.
Another method of reducing PPE waste is to never use it in the first place.
In the wake of the pandemic, it is unusual to see a healthcare worker without gloves, but research indicates that frequently using non-sterile gloves can result in poor hand hygiene and even accelerate the spread of infections that can be prevented.
This occurs because people frequently forget to change them, such as when switching from using a computer to examining a patient.
In an effort to reduce usage and promote handwashing in its place, several hospitals, including Universities Hospitals Sussex and London's Great Ormond Street, are continuing their "gloves off" initiatives.
More awareness of when you don't need gloves, according to Paul Chivers, head of PPE innovation and sustainability at NHS Supply Chain, could significantly reduce their inappropriate use.
Mr. Chivers claims that decreasing the amount of times employees wear gloves has the potential to save NHS England £48 million in procurement costs or 9 point 5 tonnes of waste. He explains that employees only need to wear them if they come into contact with bodily fluids or highly infectious patients.
Back in Southampton, Prof. Elkington is doubtful that the UK is significantly better prepared for the upcoming pandemic.
The early pandemic's painful lessons have been completely forgotten, he says, citing the NHS's current funding crisis as evidence.
Someone should be saying, "We need a plan, a government-driven strategy. We have to learn those lessons [from the pandemic]. " .
The majority of his hospital staff is keeping their personal respirators on standby in their offices, he continues. "At least we have 5,000 people prepared in this hospital to handle the next one.
. "