Leanne Wood, a former leader of Plaid Cymru, believes Boris Johnson's resignation will "kickstart" a shift in how society views honesty and accountability in the political sphere.
Following a report on whether he had lied to parliament regarding lockdown-breaking parties in Downing Street, he resigned from his position as an MP on Friday.
The former prime minister claimed that the investigation was intended to "drive me out.".
Welsh Secretary David TC Davies expressed his "regret" at Mr. Johnson's departure.
The Conservative Monmouth MP stated, "In my opinion, Boris got it right on Ukraine, Boris got it right on the vaccine program, and Boris had it right on Brexit.".
In testimony provided to the Privileges Committee in March, Mr. Johnson acknowledged misleading the legislature but refuted doing so knowingly.
He claimed that during Covid lockdowns, social distance at gatherings in Downing Street had not been "perfect.".
However, he claimed that they were "essential" work events that were authorized.
Mr. Johnson, who served as prime minister from 2019 to 2022, released a statement after his resignation in which he claimed that "they have still not produced a shred of evidence" that he intentionally or recklessly misled the Commons. ".
He called the report "riddled with inaccuracies and reeks of prejudice" when describing it.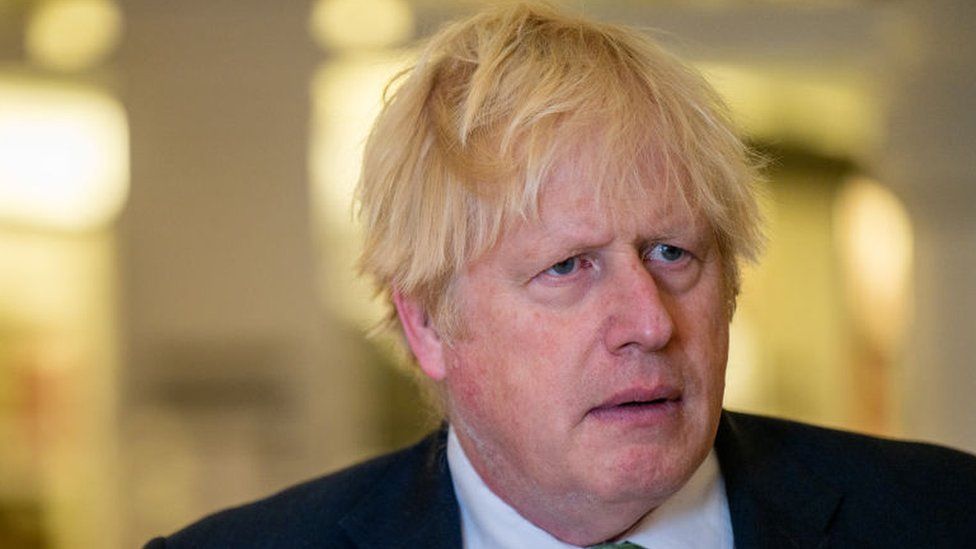 Mr. Davies said during an appearance on BBC Radio 4's Any Questions: "I make no apologies for saying that I really like the guy and I'm sorry he's gone. " .
Other Welsh politicians, such as Leanne Wood, the leader of Plaid Cymru from 2012 to 2018, also expressed their opinions.
She responded to Mr. Johnson and Nadine Dorries' resignations by saying: "Would love today's resignations to kickstart a sea-change in the way that society values integrity and accountability in the political world.
"It doesn't have to be like this.
"Always optimistic. ".
Other Welsh politicians also spoke out on social media, including Chris Elmore, the Labour MP for Ogmore, who claimed that the politician was untruthful to the very end. Not so much forced out as discovered. ".
Ruth Jones, a Newport West Labour MP, declared that Boris Johnson "isn't fit to run a bath, let alone the country.
He needs to leave the House of Commons, and I said as much during PMQs in April of last year. ".
"Dorries and Boris, a shameful and shameless double act leave the stage," declared Arfon Hywel Williams, a Plaid Cymru MP.
"Two pantomime villains who took great pleasure in causing mayhem in our darkest hours.
. "