This winter, Aandamp;E wait times have gotten so bad that at some hospitals in England, more than half of patients have experienced wait times of four hours or longer.
Hull University Hospitals, Wye Valley, Shrewsbury, and Telford, according to a BBC analysis of data from December and January, were the worst for A.
Less than 10% of patients at Northumbria Healthcare, the best trust out of the 107 providing data, waited more than four hours.
Plans are being put in place to help struggling trusts, according to NHS England.
The NHS is about to finish its worst winter since records began nearly 20 years ago when the BBC released its analysis of waiting-time data.
The emergency care system as a whole has experienced delays with both ambulances and A.
But not everyone in the nation has experienced the same effects as a result of those delays.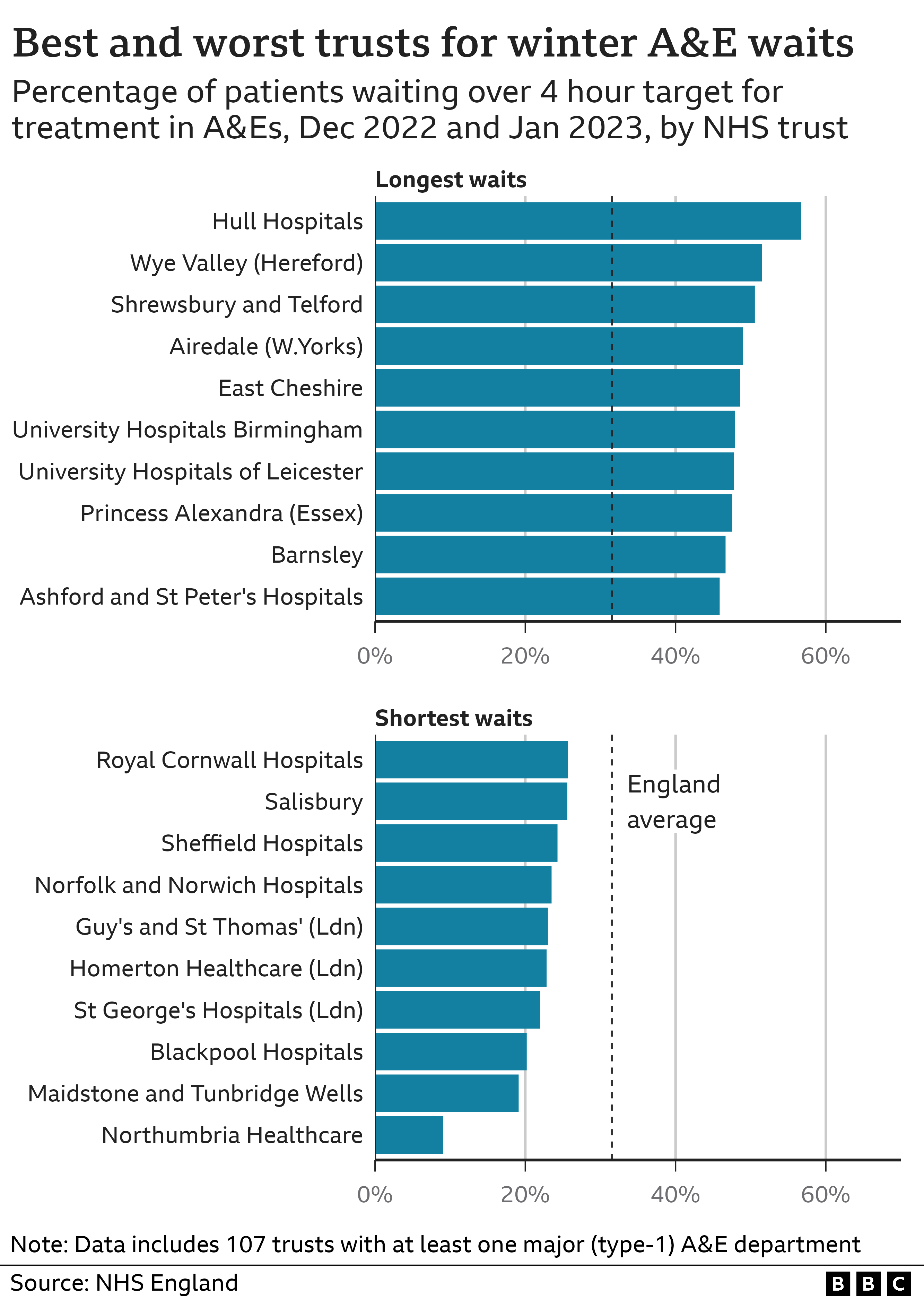 The likelihood of having to wait more than four hours at A.
The study is based on data from trusts that submitted information on four-hour wait times; 14 services did not, as they are testing out novel performance measurement techniques for the government.
Gail Fischer, 68, was one of many patients at the Shrewsbury and Telford NHS Trust who endured protracted wait times during the winter.
She visited A. To be seen, they waited more than ten hours.
Mr. Fischer was gushing with praise for the "heroic" employees who were obviously overworked.
However, he added: "A. " .
The Shrewsbury and Telford NHS Trust stated that it was unable to comment on specific cases but added that it was "sorry" for the lengthy waits that patients had to endure.
But it goes beyond the wait times in A.
Ambulance crews outside of hospitals have experienced delays transferring patients to A.
The contrasting outcomes of the best- and worst-performing trusts, Northumbria and Hull, highlight the difficulties currently faced and, perhaps, offer some potential solutions.
Both individuals have encountered ambulance lines outside of.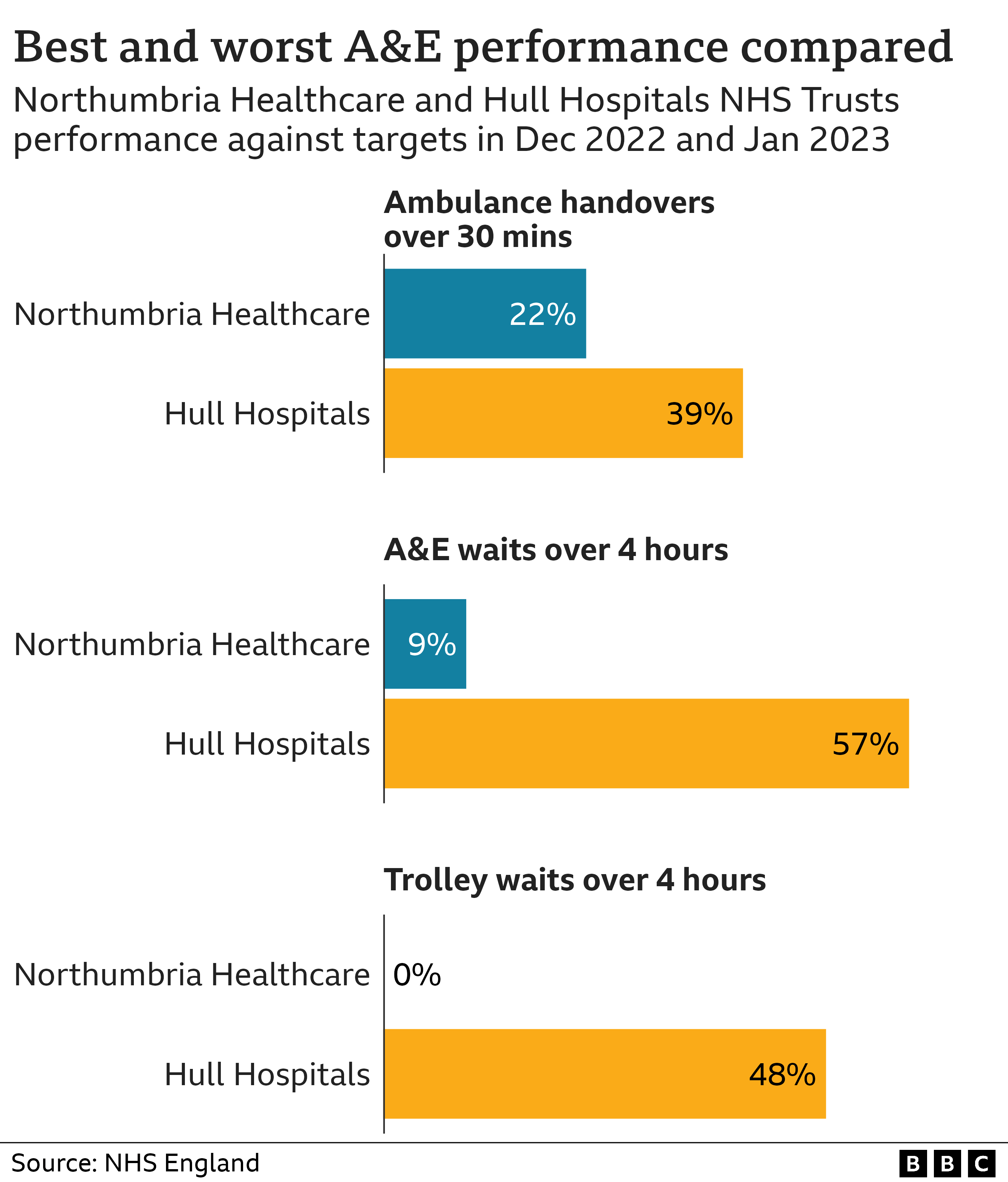 The fact that Northumbria is an integrated trust, managing both hospitals and community services, is essential to its success.
Because the trust is in charge of the patients' care after they leave the hospital, it has been able to better plan care for patients and discharge them as soon as possible when they do not need to stay.
The coordinated strategy has also resulted in the development of a special emergency care facility where senior A.
In Hull, the trust was established using the conventional model; it manages the regional hospitals while other organizations handle community services.
The trust is working hard to coordinate care with its community and local authority partners, according to chief medical officer Prof. Makani Purva.
But according to her, this winter there had been the equivalent of eight hospital wards' worth of patients who didn't need to be there but couldn't be released until there was adequate community support.
This affected how quickly patients entering the building through the front door could be seen.
"There has been significant pressure on our emergency department. We apologize to patients who had to wait too long to be seen and to those whose admission was delayed, the spokesperson said.
One of the main goals of the government and NHS England is to increase integration between community and hospital services in order to boost performance.
A two-year plan to improve A has resulted in additional funds being made available this winter to support hospitals in discharging patients, hiring more call handlers, and opening additional beds.
There is no denying that hospitals have seen a significant increase in demand for emergency care this winter, according to a spokeswoman for NHS England. ".
However, she noted that performance had started to rise, and NHS administrators would now work to build on this.
There had been signs of improvement lately, Healthwatch England's national director Louise Ansari concurred.
She acknowledged that there was "still a long way to go," however, and urged the government and NHS England to take additional steps and adopt more ambitious goals to assist hospitals in returning to seeing 95% of patients within four hours.