A pregnant woman claims that when her early-stage bladder cancer was discovered by her first scan, her unborn child "saved her life.".
Megan McQuade, 29, of Ingleby Barwick, Teesside, and her partner Michael Johnson had been trying to conceive for two years.
Just before Christmas, they received the heartbreaking news, and they were forewarned that they might need to decide whether to carry the pregnancy to term.
It was the worst choice anyone could ever make, she claimed.
Ms. McQuade, a primary school teacher, went for a checkup about six weeks into her pregnancy after noticing some spotting, or light bleeding.
She admitted to panicking as a new mother on BBC Radio Tees.
The sonographer at the hospital noticed what looked like a shadow on her bladder and advised her to have it checked.
The warning completely slipped Ms. McQuade's mind because the couple was "overjoyed" after seeing their baby for the first time, according to her.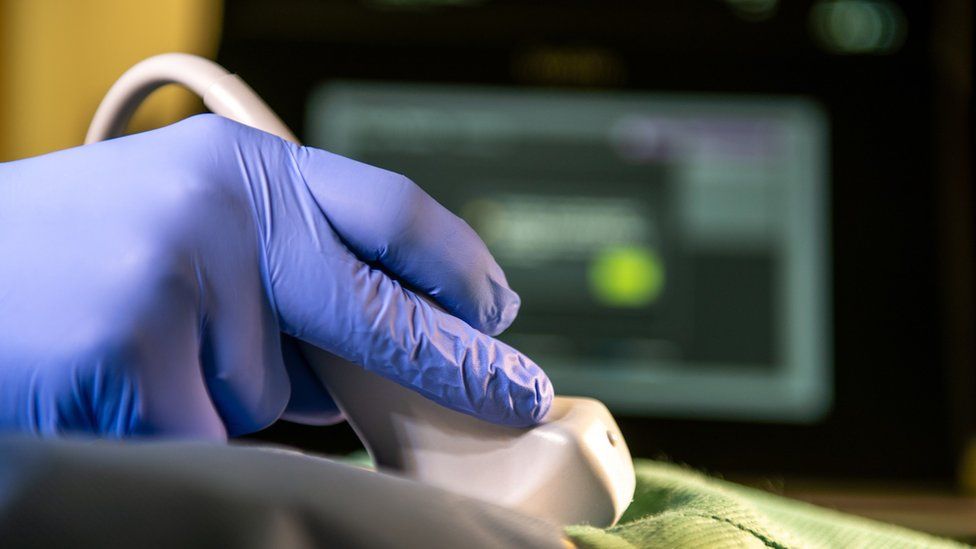 But when she came back two weeks later, she realized there was a more serious problem.
"The lady's tone took a sharp turn. I really think you need to have it looked into, so please schedule a visit with your doctor, she said.
"At that point, I suddenly realized something wasn't right; I almost felt a turn in my stomach. '.
A consultant from North Tees University Hospital met with the couple in December and cautioned them that it might be cancer.
"We had this wonderful plan to finally tell our families on Christmas Day. None of them were aware because we wanted to share this lovely video to inform everyone, and the consultant sat there basically telling me that I might have cancer.
"My partner simply put his arm around me and asked, "Are you alright?," and I immediately started crying.
"It was awful. All the possibilities were flooding through my mind: Am I going to make it? What's going to happen to the baby? ".
She was informed that she would go through a procedure with a camera to get a closer look at the beginning of January.
She continued, "The only good news I had at the time was that it was so small that they could remove it and perform a biopsy all at once.
"The consultant came to see me after the surgery and explained that everything had gone really well; we were just awaiting the results to decide what would happen to the baby.
"The following steps involved determining whether or not I required chemotherapy, and if I did, it was explained to me that we would essentially have to choose between removing the child, treating it with chemotherapy, or keeping the child. ".
They got their results two weeks later.
'Everything has gone really well, we managed to get it all out, and we took out some extra cells around it to make sure there's no chance of it growing back,' the consultant said as we sat down. At this time, we think no additional treatment is required.
"I still shed a few tears because it was the best news I could have received. " .
The child of the couple is due in July. Ms. McQuade will then undergo two additional camera-based procedures, and if all goes well, she said she will be released.
She continued, "I think everything happens for a reason.
"Michael and I have waited two years for precisely that time to arrive so that they could alert us that something is wrong - everything has worked out. ".
She is currently advising others to take care of their bladders.
The most terrifying aspect, according to her, was that she had no symptoms at all.
"I am doing great right now, and the baby is doing great. We have a 20-week scan coming up, so we are excited to see the baby again then.
. "