According to President Joe Biden, he does not apologize for shooting down a suspected Chinese spy balloon off the US coast.
Although three other objects shot down over North America were not likely to be foreign spy planes, he claimed the balloon was used for surveillance.
He declared that the US would now enhance its detection of comparable aerial objects.
Additionally, Mr. Biden stated that he would discuss this month's incident with President Xi Jinping of China shortly.
At the White House on Thursday, Mr. Biden said, "I hope we are going to get to the bottom of this, but I make no apologies for taking down that balloon.".
China claims the balloon blew off course while gathering weather data and denies being used for surveillance.
However, Mr. Biden reaffirmed the official US position that the balloon was actually used for spying. The balloon traveled across the nation at a height of about 40,000 feet (12,192 meters) before being destroyed by a US fighter jet over the Atlantic.
He claimed that the US and China were still discussing the matter. Mr. Biden stated, "We are not seeking a new cold war.".
Joe Biden has come under increasing pressure to address the three unidentified objects that American fighter jets have been dispatched to shoot down over the past week, as well as the alleged Chinese surveillance balloon.
He did that on Thursday afternoon, but his brief appearance won't do much to quell critics or those who are seeking clarification.
He said nothing about the nature of those things and said nothing more about the initial Chinese balloon. He avoided talking about the Chinese balloon's initial discovery, its intended use, or recent claims that it was heading for the US island of Guam before changing course. He also failed to explain why no new targets have been identified despite a recent spate of incidents.
It was a poor excuse for an explanation. It will probably fail as a public relations effort as well.
The questions will likely resurface with renewed urgency the next time a balloon flies across the American sky, or when fighters scramble and missiles fly.
Mr. Biden said the intelligence community thought the three additional objects that were subsequently shot down over Alaska, northwest Canada, and Michigan were "most likely balloons tied to private companies, recreation or research institutions.".
According to Mr. Biden, improved radar that was implemented in response to the Chinese balloon may help to explain how the three objects were discovered.
"As a result, I've asked my team to present me with clearer guidelines for how we should proceed with handling these unidentified objects going forward, separating those that are likely to present safety and security risks that call for action from those that do not. ".
The White House felt the need to refute rumors that the three objects were created by extraterrestrials, which is why Mr. Biden made his remarks.
The slow-moving unidentified objects were destroyed "to protect our security, our interests, and flight safety," according to officials, who claimed they did not pose "any direct threat to people on the ground.".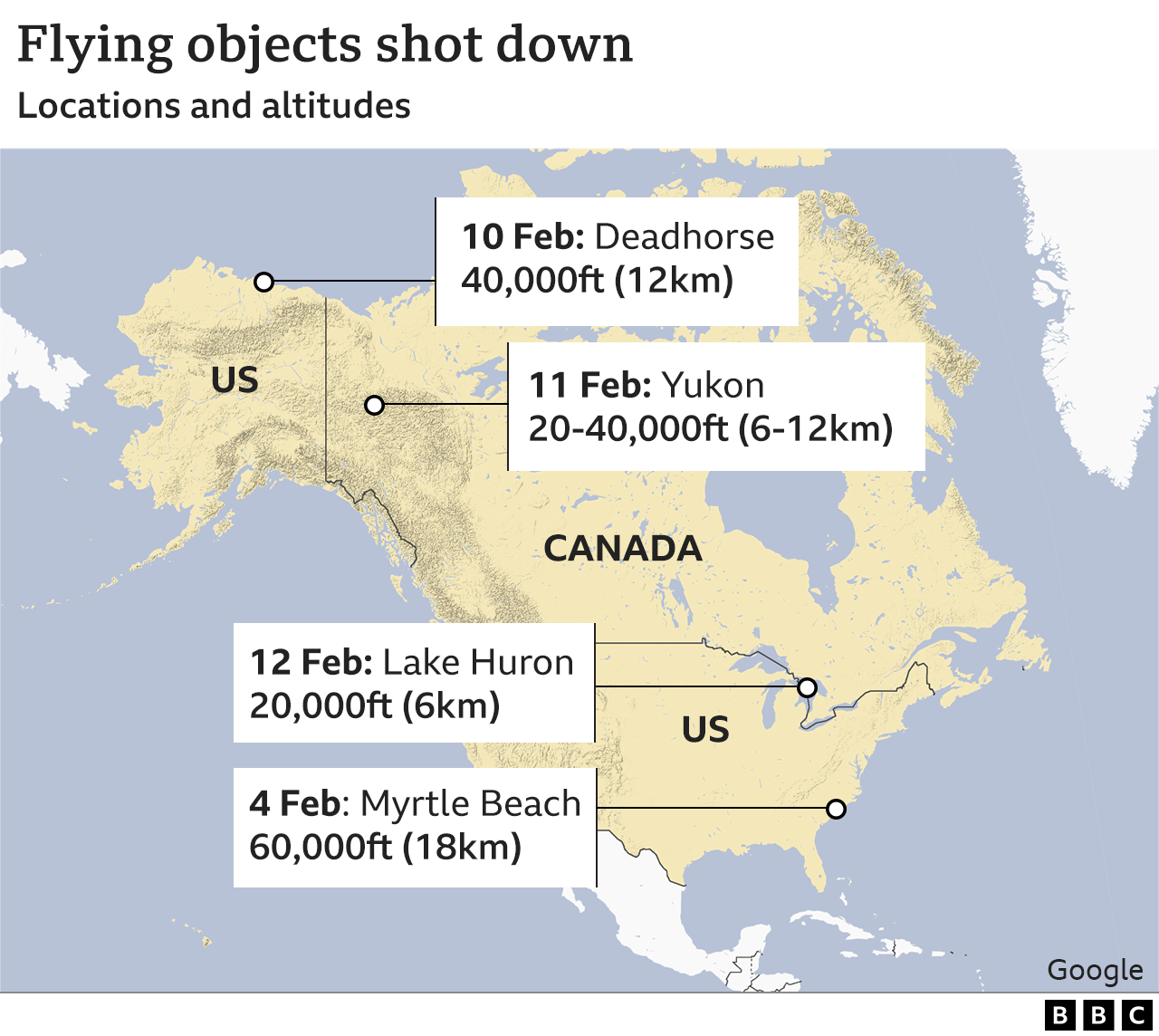 In response to the question of whether he would repeat the same course of action, Vice President Biden stated: "Make no mistake, if any object presents a threat to the safety and security of the American people, I will take it down. ".
China has reiterated its justification for shooting down the balloon on February 4 and advised the US to try to avoid "misunderstandings and misjudgements," according to a spokesman.