Having experienced its driest winter in more than 60 years, France is now subject to drought restrictions.
The nation is now on alert after a month without any appreciable rainfall.
Prefects from the surrounding areas will meet on Monday to assess the situation "territory by territory," according to Ecological Transition Minister Christophe Béchu.
According to the country's weather service Météo-France, last year was the hottest year on record in France.
In other parts of Europe, including the UK, Spain, and Italy, records were broken.
Many regions are still experiencing drought as a result of the hot temperatures.
According to researchers, snowfall in the Italian Alps is down by 53%, and water levels in the Po basin of Italy's largest river are 61% below average.
In response to the 2022 drought, a state of emergency was declared in five northern regions surrounding the River Po last July. Due to Venice's low tides, the Grand Canal's building foundations have become exposed and the city's gondolas and water taxis are unable to navigate the muddy canals.
The Alps, Europe's most crucial mountain range for supplying rivers, had seen a 5 point 6 percent reduction in snow cover duration per decade over the previous 50 years, according to a report released by Nature Climate Change last month.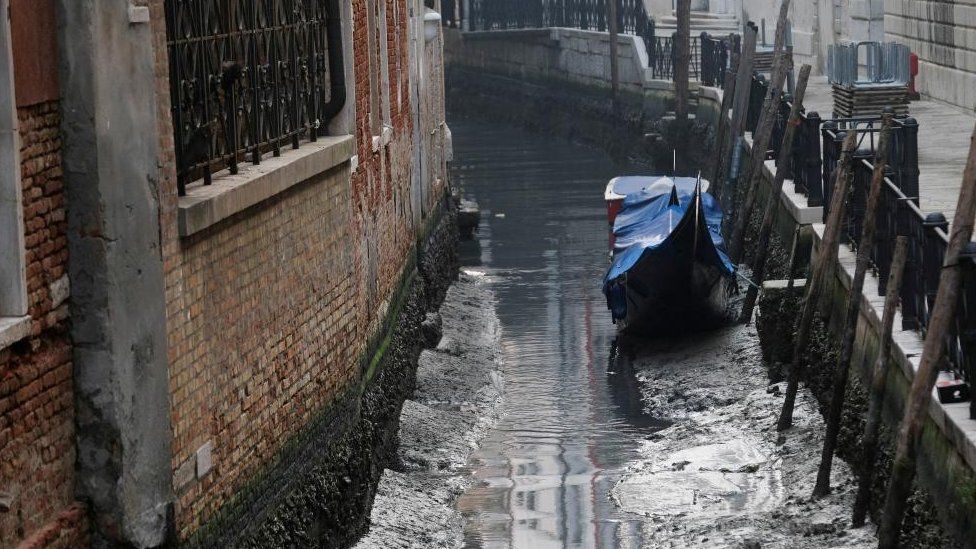 Concerns have been raised about how to handle water crises, which experts predict will happen more frequently as a result of climate change in light of the drought in Italy.
Legambiente, an Italian environmental organization, has urged the government to adopt a national water strategy. Director Giorgio Zampetti noted that while 2023 has only just started, it is already exhibiting concerning trends in terms of drought levels and extreme weather events.
After meeting with local leaders on Monday, France's minister for ecological transition suggested that "soft" restrictions might be put in place starting in March to prevent "catastrophic conditions" during the summer.
Météo-France reported that there had been no precipitation at all between 21 January and 21 February, citing a cumulative total of less than 1mm rainfall for all of France.
When it came to replenishing France's groundwater reserves, snow cover in the Pyrenees and Alps was also significantly lower than usual.
The following three months would be crucial, the agency predicted, with rain expected to return to southern France on Wednesday.