Eleuthera Abus, who is 99 years old, winces as the broken bones in her right arm move. Since her fall, six months have passed.
Alena Yap, a 28-year-old physician who is seeing the patient on her porch, states, "All I can do is manage her pain.". "She needs the bone to be pinned really badly. However, her family won't take her to the hospital. ".
The daughters of Eleuthera are not heartless. They're indigent.
They live on the tiny island of Diit, which is hundreds of miles across the sea from the closest surgical facility. It is one of several islands that make up the Agutaya archipelago, which is stranded in the Sulu Sea off the coast of the Philippines.
Dr. Alena, as they refer to her, is the only medical professional available to the roughly 13,000 residents. She is small, wears glasses, and pulls her long hair back into a ponytail. Her wide smile conceals her quiet resolve.
The only island in the archipelago that she does not visit is Amanpulo, which got its name from the upscale hotel there that is rumored to have hosted Tom Cruise and Beyoncé. It can be seen on a clear day from the beaches of Diit, which are only 20 kilometers (12 miles) away.
Dr. Alena arrived just in time for the coronavirus and had to adapt to the death threats she received for urging people to isolate. But in this frequently overlooked region of the Philippines, the pandemic that engulfed the world wasn't her only problem. She faced the most difficult problems facing her country while battling both new and old diseases. She claims that she came to Agutaya in order to make "real changes," but she left feeling utterly dejected.
A recent graduate of the nation's top medical school, who had lived her entire life in Manila, the bustling Philippine capital, is not someone you would expect to find in these isolated, volcanic islands. Dr. Alena chose to volunteer for a government program that sent her to this area, to one of the poorest municipalities in the nation, in contrast to so many of her peers who have left to pursue careers in Australia, America, and Britain.
It takes two and a half days to travel from Manila to the main island of Agutaya. One flight is involved, then a sleepless 15-hour night ferry ride from the port city of Iloilo to the larger island of Cuyo. Then, the only means of transportation into and out of Agutaya is a treacherous, two-hour trip in an outrigger canoe.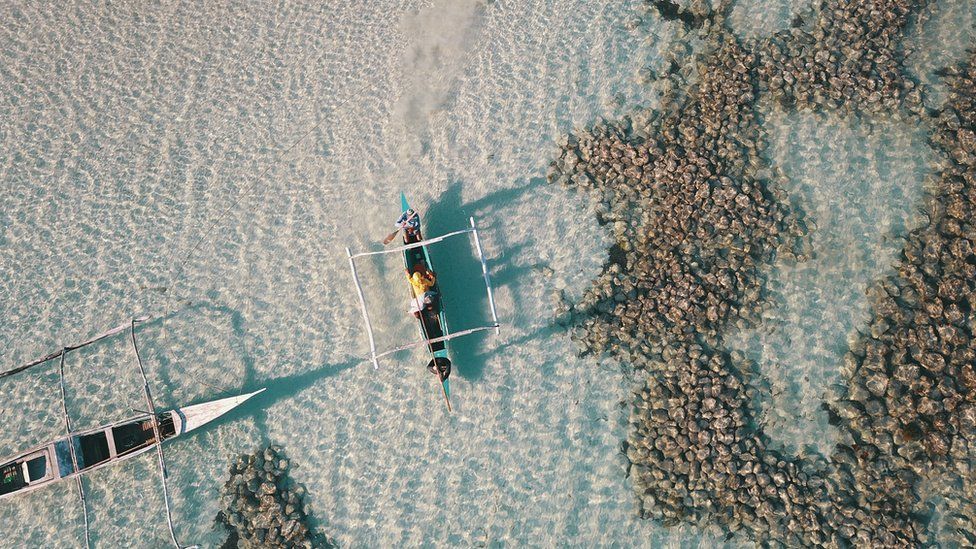 Agutaya appears to be a piece of paradise as the expert boatman maneuvers the outrigger across the reef and into the shallows. A large expanse of white sand extends in both directions beneath the shoreline's palm-lined edging. On the crystal-clear water, colorful outrigger canoes bob about as if they were floating in the air.
But geography can be both good and bad. The dozen or so islands that make up the archipelago are dispersed over hundreds of square kilometers of water, and when the monsoon arrives with winds in tow, they are cut off for days, if not weeks. The hillsides sit atop vast fields of basalt boulders and are heavily forested. There is not much tillable ground. The ocean provides almost all of the islanders' needs.
In February 2020, Dr. Alena made her first crossing to Agutaya. She laughs and says, "When I first came here, I was 26 and a lot of people would think I was in high school. "Nobody would think I was a doctor. ".
Within a month, the coronavirus put the Philippines on lockdown, posing her first obstacle. The islands had been closed off.
The first year wasn't too bad, according to Dr. Alena. "There were no nearby cases. However, it wasn't until the second year [2021] that everyone was permitted to return to their hometowns. Suddenly, folks started returning from as far away as Manila. ".
Their quarantine was being enforced by Dr. Alena. People reacted violently when they found out they would be quarantined, she claims. "I was threatened with death. There were rumors that I should be shot. ".
She knew the rationale. Here, daily life is how people live. They eat the fish they catch in the morning for dinner. They would go hungry if they were unable to travel to fishing spots.
Dr. Alena, who had abandoned her fiancé in distant Manila, was no longer welcomed by the neighborhood and was instead despised as a government enforcer. There were times when I was unable to stop crying. There were numerous tears, according to her.
She started adopting dogs to lessen her loneliness. Vigly is diminutive and reserved, while Bruno is big and has a tail that never stops wagging. They stick close behind her.
I frequently went to the beach with them to watch the sun set. I also began drawing. Even though my pictures are terrible, it counts as art therapy. ".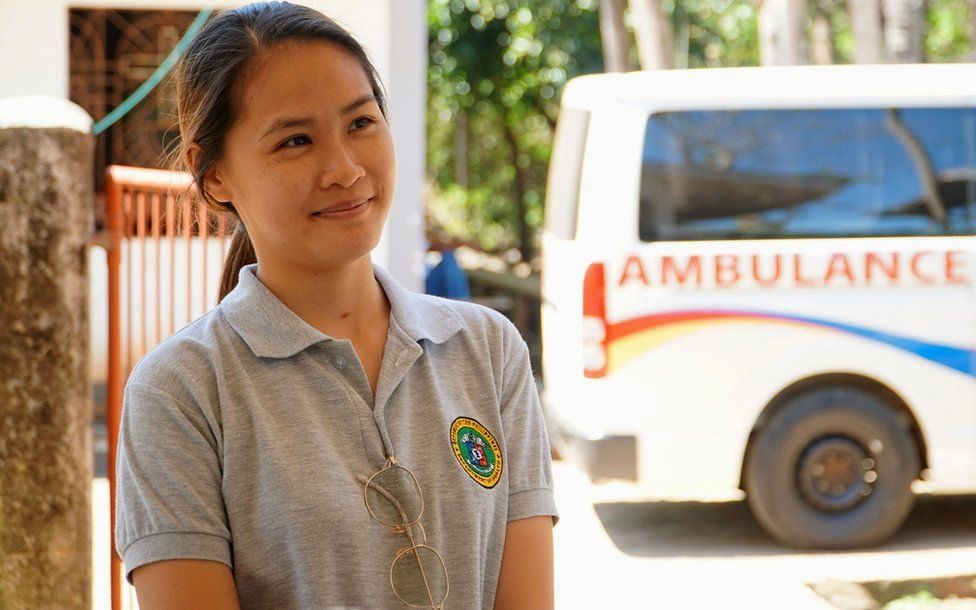 When the vaccines began to arrive in the summer of 2021, the following challenge arose.
Dr. Alena explains, "We had to visit every island baranguay [village] house to house.". Many people are unable to pay the fare to travel to the clinic because it is nearly three hours by boat to the farthest island. they decided not to arrive. ".
Despite how exhausting it was, there were other issues as well. "There was a lot of hesitation, a lot of fake news about the vaccines being bad or that they can kill people. Many people in this country get their news from social media, but they are not receiving the facts. ".
The threat from Covid had started to lessen by the fall of 2022. Despite the opposition, the vaccination program was a success. Around the archipelago, the virus had only claimed the lives of eight islanders.
But there wasn't much relief from that.
Every weekday morning while Dr. Alena and her team are still meeting for their daily meeting outside the main clinic on Agutaya, a line is beginning to form.
A man in his 50s who has had a suspected stroke is first in line that day.
Dr. Alena chuckles as she admits, "Before I came here, I thought everything would be fresh and organic.". But here, it's very challenging to find a healthy diet. ".
One reason is that locals salt and dry their fish, which raises blood pressure. Diabetes is also more prevalent because soft drinks are more accessible than pure water.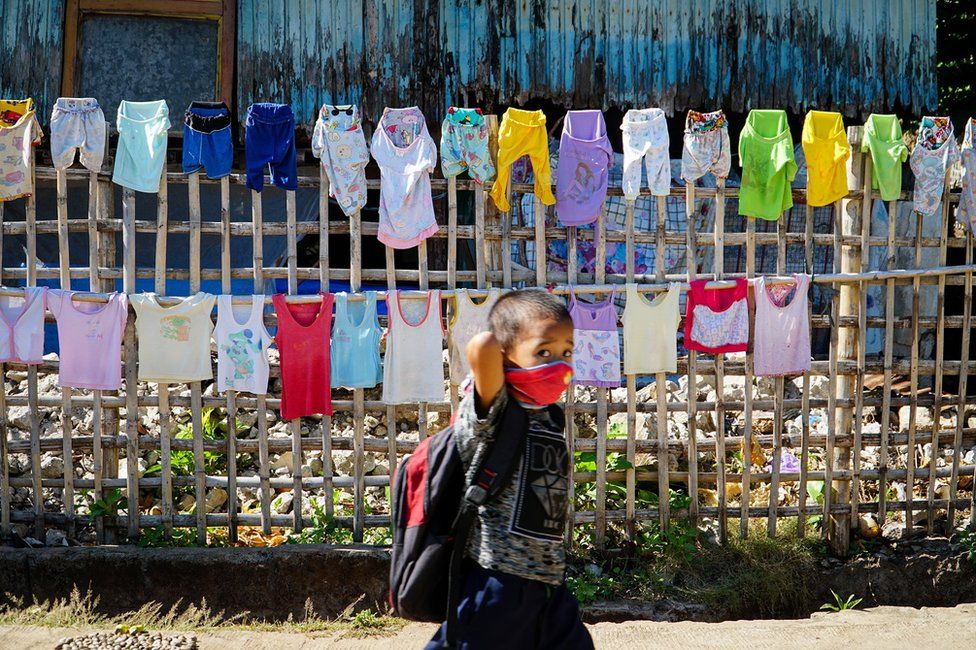 The clinic's other major health issue is "sputum sampling" for tuberculosis, or TB, according to a sign at the entrance.
According to Dr. Alens, 45 cases were reported in 2022, but many more go undiagnosed.
TB is a bacterial infection that, if untreated, is fatal. It killed millions each year until it was largely eradicated from the world by the middle of the 20th century thanks to a combination of vaccines and antibiotics.
However, there are still thought to be more than a million cases in the Philippines. Dr. Alena says the goal is to eradicate it, but that it will be "impossible in the near future.". According to her, people frequently relapse due to inadequate access to healthcare, and drug-resistant strains have even started to emerge.
A woman arrives at the clinic later that morning with her young son. The boy slouches on a chair, looking pale and listless. He might have dengue, says Dr. Alena. A short while later, it is verified. She advises his mother to keep him hydrated while also prescribing paracetamol.
Dengue has just arrived. Even as Dr. Alena and her team sprayed school grounds to kill the mosquitoes that spread it and distributed treated nets, the one case in January had grown to ten by March.
By 11:00, the doctor is pulling herself away from the snaking patient line. Her skilled nursing staff will have to take care of them because she needs to travel to Diit, which is 40 minutes away by boat.
It is less wealthy but more beautiful than Agutaya. It only has one concrete road that ends after a few hundred meters, no electricity, and no cell phone tower.
Dr. Alena's arrival, affectionately referred to as the "medicine lady," is met with great anticipation. Numerous schoolchildren rush down the beach in large numbers. They've been given the day off so Dr. Alena's dengue prevention team can insecticide-spray the school's grounds. She appears to be the pied piper as she makes her way through the community, drawing a large crowd of laughing kids after her.
She stops by an elderly couple in wheelchairs who are sitting outside their home along the beach. They are both stroke survivors who are partially paralyzed. He has a blood pressure reading of 150 over 90. She describes it as being high but appropriate for his age.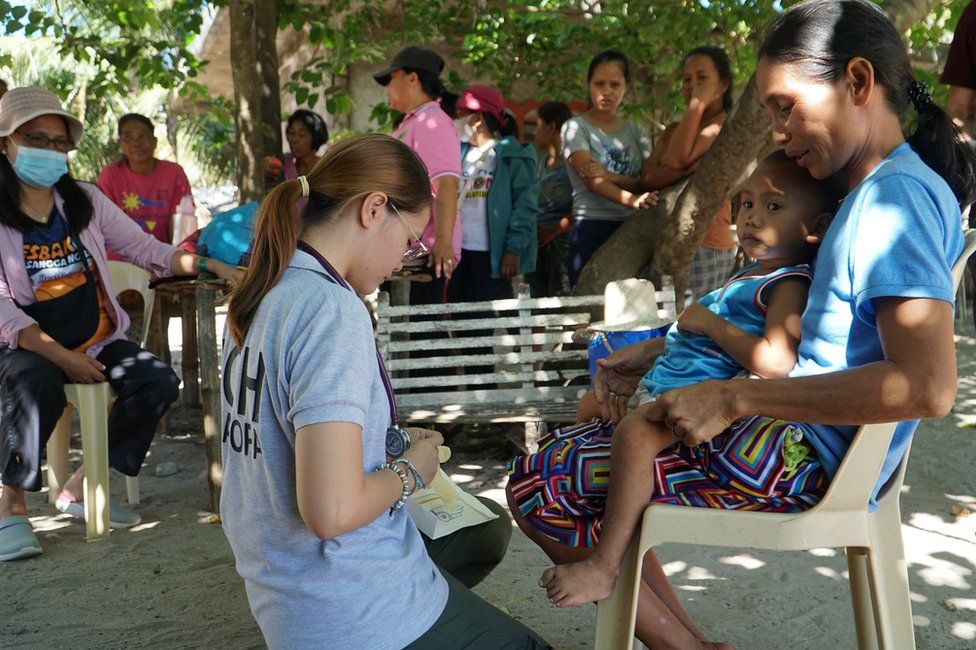 A group of people has gathered around, but a woman in her 40s pushes her way through them. The boy she is carrying is probably five or six years old. Dr. Alena instructs the woman to take a seat before examining the youngster. The left testicle on him is greatly enlarged. His lower abdomen has a hernia, which the torch reveals. His intestine partially broke through the bowel wall and pushed into his testicles.
Dr. Alena informs the mother that "he will need surgery.". The women's eyes lose their hope and develop worry.
She is asked by Dr. Alena if she is aware of anyone who she could stay with on one of the larger islands. Yes, the woman replies, in Culion, which is located 12 hours away by boat.
When I tell them they need surgery, you can see the fear and sadness on their faces as they realize there isn't a medicine I can give them to treat this, says Dr. Alena. It's difficult to break the news to someone, as you can see in their minds when they wonder how they'll pay for it. ".
Hernia repairs are routine medical procedures in another part of the world. However, in this case, it could obliterate a family's savings, leaving them in years of debt.
"It would make a big difference if we could make travel easier," she continues. "But that's difficult because it will require numerous resources. ".
Dr. Alena's optimism and ambition have given way to the disheartening realization that resources, or money, will always be the biggest challenge after three years on the island.
Around the perimeter of the main island of Agutaya, a concrete all-weather road follows the base of the rocky hills. Last year, construction started concurrently with the local election campaign. Before election day, one lane was completed, but islanders claim that after that, construction ceased. There isn't yet a second lane.
One local jokes, "We'll have to wait until the next elections to finish the road.".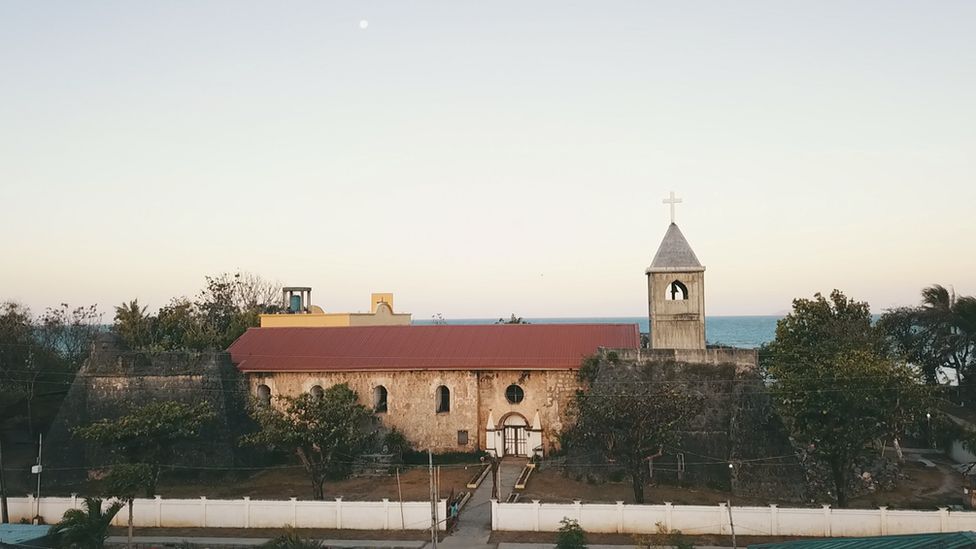 Rusted steel bars protrude from an incomplete concrete structure on the opposite end of the island, which is slowly being taken over by vegetation.
According to Dr. Alena, it was supposed to be the brand-new rural health unit. Last year, work was halted because the local government was broke. But they haven't finished up their end of the bargain, she says, clearly frustrated.
Large, powerful clans, whose chiefs promise voters resources from Manila in exchange for votes, dominate Philippine politics, which is not driven by parties but rather personalities. Agutaya is too small a town, according to a local woman: "There aren't enough votes here to make it worthwhile. ".
Vote-buying during elections is so common that it now seems to have a well-worn price: 500 pesos, or $28 (£22). Local politicians have little incentive to change. Money continues to flow in, but corruption persists, and it doesn't appear that it ever does.    .
Dr. Alena sighs, "I came here with very idealistic intentions. "I tried to change the way the local healthcare system operated with a lot of vigor. But as time passes, you come to understand that three years is far too little time to make any significant changes. ".
As her three-year contract on Agutaya came to an end, many islanders expressed their sadness at her departure. One of the senior nursing assistants, Ricardo, said of her, "Time flies fast," adding that she was "selfless and hardworking.".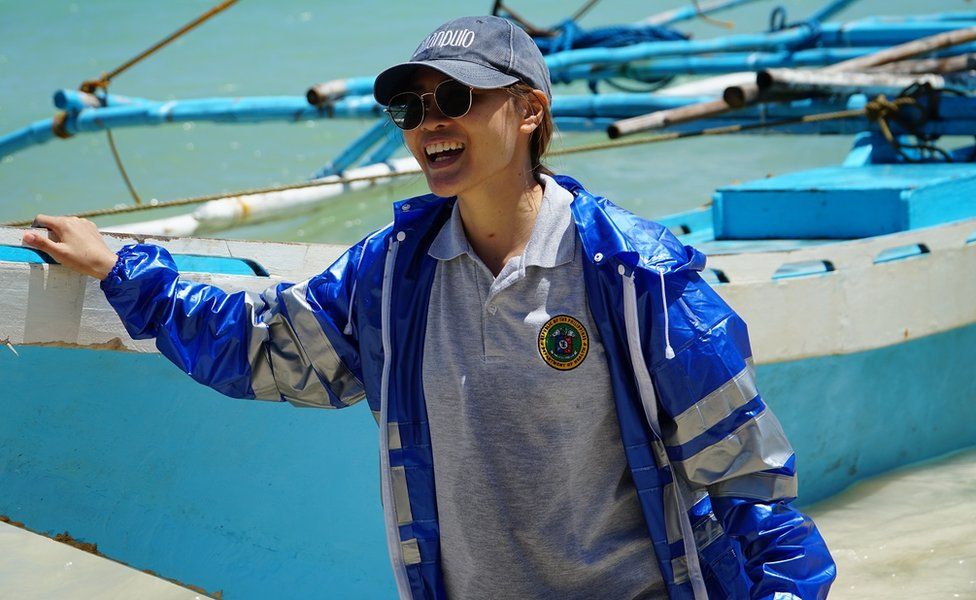 But Dr. Alena claims that in the weeks following her return to Manila, she has felt let down and even cynical about her experience working for local government. She declined a position at the provincial health office in Palawan that was offered to her. She would rather work for a medical NGO or charity.
She visited Agutaya once a year to perform small surgeries, and just last week she went back as part of an NGO-run program.
However, it didn't take her two and a half days this time. In a private aircraft financed by foreign donors, Dr. Alena and the other medical professionals arrived there three hours after departing from Manila. They touched down on a runway in the opulent island of Amanpulo.