Female wrestler Jang Eun-sil commands her frustrated teammates, "Try again.".
A 1,500 kg wooden ship that needs to be pushed through sand and up a ramp won't move. Jang is aware of how weak her team appears on paper.
The boat then starts to move forward a little bit to the sound of her rallying cries. Her team struggles and sobs for the next eight minutes as they drag the object up the ramp to finish the task. The competitors collapse to the ground in shock, their ripped bodies dripping in perspiration.
This is my favorite scene from Physical 100, the most recent smash hit from Netflix, in case you haven't been watching this show. 100 of South Korea's top athletes from all walks of life compete for the title of most impressive body in the survival show. Olympians, fitness industry leaders, a firefighter, and a prison guard are included. The competition between men and women is one of the most novel aspects of the program.
It's like a real-life version of the Squid Game, but no one dies. However, while filming, contestants have broken ribs.
The most watched non-English show on Netflix has risen to the top thanks to Physical 100. It is the first reality program to hold the top spot in history. In the UK, it is currently the third-most watched Netflix show.
The success of K-pop and K-dramas might seem expected given their dominance. But it's not. Although reality shows have been around for a while, or variety shows as they are known in Korea, they have never really taken off outside of their home country.
Netflix hastily gathered 50 of its contestants to meet their fans along the river in Seoul earlier this month after being surprised by the popularity of the show.
Jo Jin-hyeong, a huge 41-year-old car dealer who advanced to the final five competitors by balancing a 50kg boulder on his shoulder for more than two hours, chuckled, "I thought it would be popular, but not this big.".
He acknowledged that it was one of the hardest things he had ever done. "My whole body went numb, and my entire life flashed before my eyes. I simply believed that I could not let go and lose. ".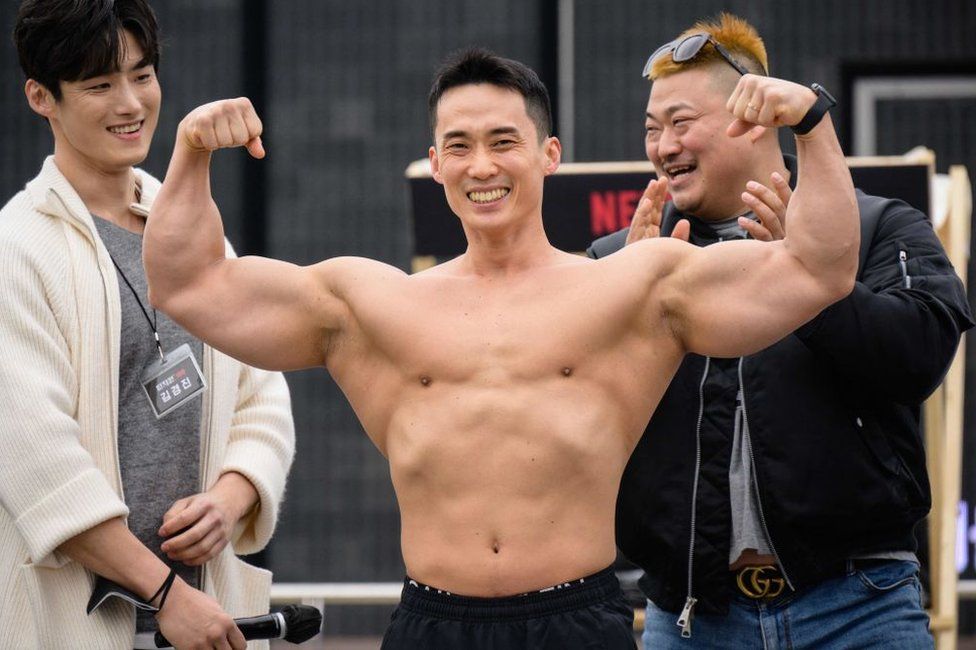 Wrestler Jang Eun-sil decided to participate because of the opportunity to face off against Jo and other top competitors. It was unusual for men and women to participate together, she said.
The stars performed backflips for the audience all afternoon, frequently removing their tops to show off their biceps. They are aware of their market.
Hari, 25, said, "I watch because there are lots of hot people.". Her friend Da-hyun chuckled, "Me too, that's the main reason. Despite their attractiveness, the couple is thrilled about the show's widespread popularity.
"It's really cool that everyone now knows about Korea. Additionally, it's no longer just about K-pop; this is showcasing another aspect of our nation, they both agreed.
The friendship has won over fans from other countries. The final two competitors encourage one another at one point to finish the taxing task of pulling a seemingly endless rope.
"I believe these were beautiful moments for our foreign fans," said Jang. Jo explained, "It's the Korean way.
Variety shows have long been a staple of home entertainment in Korea, bringing together kids, parents, and even grandparents. The networks constantly produce novel ideas in a fierce competition to make theirs the most distinctive and entertaining.
Game shows, talent shows, and fly-on-the-wall access to people's lives are all part of the quirky genre. Celebrities and, more often than not, an opinionated but witty panel of guests make for lighthearted viewing. In the television program "My Little Old Boy," mothers of famous people offer commentary on their sons' behavior.
The award-winning director-producer Heo Hang claims that the shows are frequently "too Korean" — there is too much talking and text on the screen, making them difficult to translate and comprehend. The shows are openly produced for Korean audiences.
I've been invited by Heo to go behind-the-scenes of her successful, ten-year-old production of "I Live Alone.". The program follows a famous person who lives alone for a day. Then, a group of famous individuals are invited into the studio to watch the footage and offer biting commentary.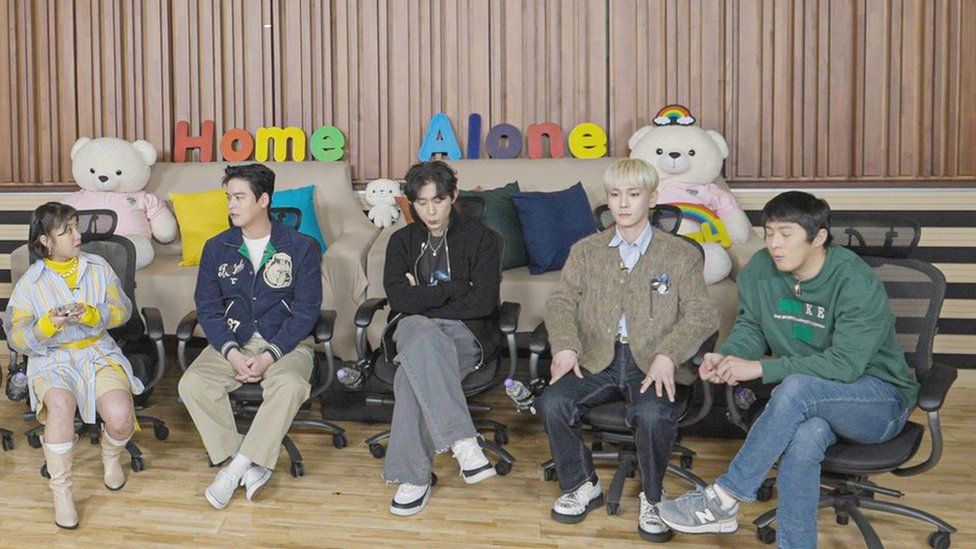 On this occasion, Shinee member Key and a star-studded panel keep an eye on actor Lee Jang-woo as he spends the day preparing Vietnamese cuisine. The cake Lee then unexpectedly produces is filled with meat instead of the frosting they had just seen him make.
It's hilarious, but I'm not sure why. The crew and cast are in shambles.
People enjoy our program because it demonstrates how similar celebrities' everyday lives are to their own. Since we don't use scripts, it is also very genuine, says Heo.
The program taps into something uniquely Korean in a nation where more than one-third of households consist of lone residents. Heo continues, "I suppose it is harder for foreigners to relate to our lives.
Although the shows might not translate well, the concepts do, which is why Korean companies have for years sold their formats to be remade abroad. The Masked Singer, a US phenomenon in which celebrities perform while hiding their identities, is a product of South Korea. More than 50 nations have purchased the rights from its creators.
With Physical 100, Netflix has turned the tables and decided to support the Korean version of the program.
With shows like Squid Game and Extraordinary Attorney Woo whetting their appetites, Netflix knew it had a captive audience eager to learn more about Korea. A startling 60% of all Netflix subscribers watched Korean content last year. .
Television channels cannot compete with the business model of streaming platforms. The ability to subtitle and dub episodes and push them out to viewers around the world at once allows for the simultaneous distribution of entire shows, which generates a buzz on a global scale.
Yoo Ki-hwan, the unscripted content manager for Netflix in Korea, claims that Korean reality is "shaping up as the next big K-content trend.".
The South Korean entertainment sector is also eagerly watching. In the past, these networks had a dubious view of Netflix and other streaming services as rivals. They could now work together.
Jinny's Kitchen, a K-reality series that follows a group of celebrities as they try to open a Korean street food restaurant in Mexico, was just purchased by Amazon Prime.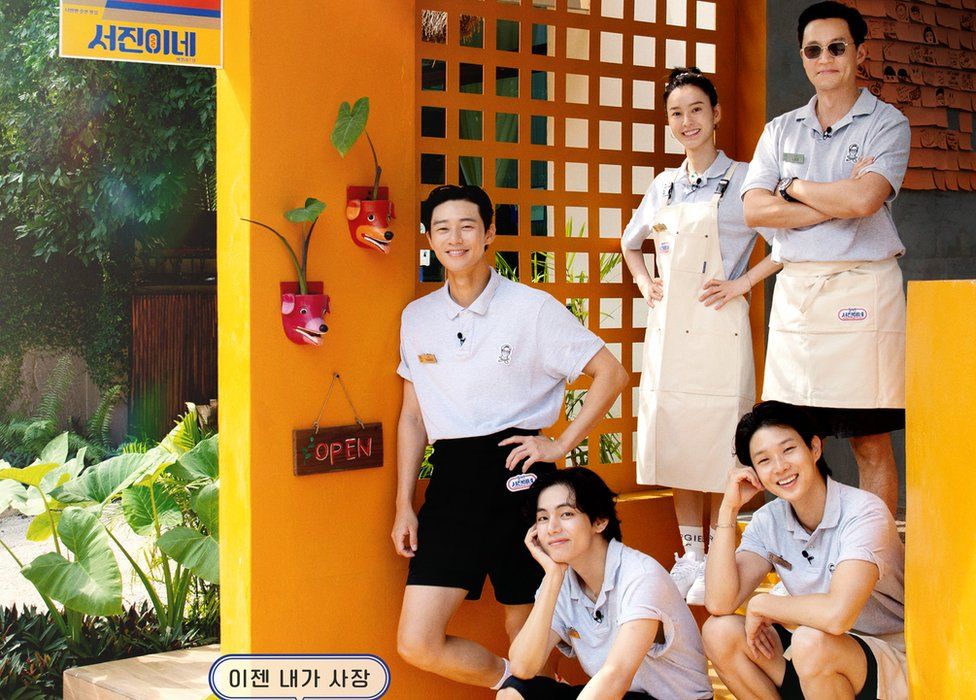 One of South Korea's most renowned reality TV producers, Nah Yung-suk, the head of the media behemoth CJ Entertainment, is the show's creator. Nah claimed he had never before considered viewers from other countries. He simply set out to create the most entertaining show for his Korean audience with Jinny's Kitchen.
However, Physical 100 has altered his way of thinking. He starts to see opportunities at once. He believes that using celebrities will help you gain worldwide fans. V from BTS plays the restaurant intern in the movie Jinny's Kitchen.
Sincerely, I now sincerely hope that foreign audiences adore my program. I will consider changing my formats if they don't find it amusing or entertaining. Perhaps I should start a survivor show," he joked.
The sector is ready for a major international breakthrough. Every day, 200 producers at CJ Entertainment struggle to come up with fresh concepts. If the streaming services adopt those concepts, it will result in more funding and more expansive and improved shows. That is, at least, the promise.
For the first time, Nah reflected, "We're thinking, huh, is this really possible? Foreign audiences can enjoy Korean reality shows."