Ursula von der Leyen, the head of the EU, will have tea with King Charles at Windsor Castle after she meets with Rishi Sunak to discuss a Northern Ireland Brexit deal.
According to Buckingham Palace, the meeting was planned on the recommendation of the executive branch.
The decision was "fundamentally" up to the King, according to Number 10.
However, there have been cautions against involving the monarch in a divisive political controversy.
Brexit supporter and current Conservative MP Jacob Rees-Mogg argued that it was "constitutionally unwise to involve the King in a matter of immediate political controversy.".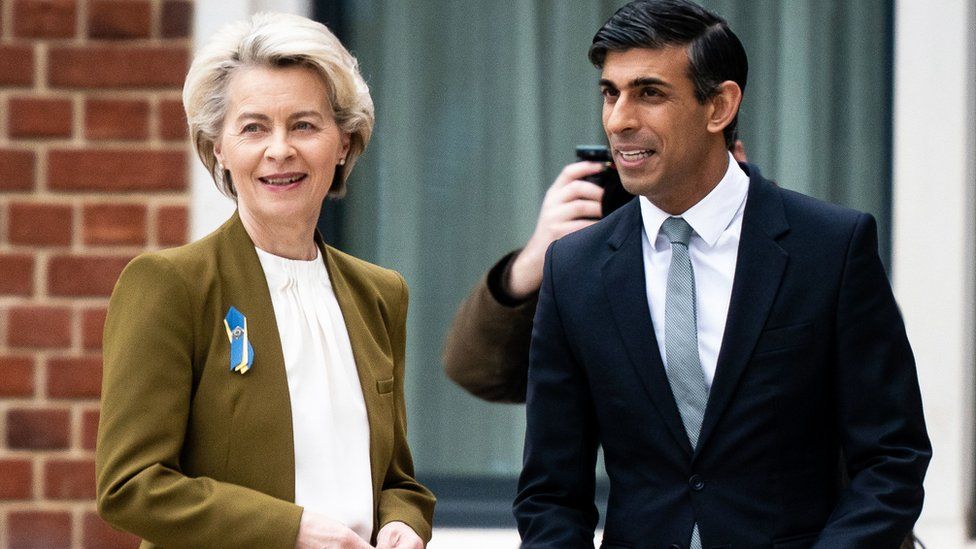 Sammy Wilson, the Democratic Unionist Party's chief whip, claimed that the gathering ran the risk of "dragging the King into a hugely contentious political issue.".
However, the King's most recent meetings with foreign dignitaries, including the presidents of Poland and Ukraine, were compared by the prime minister's official spokesman to the gathering with Ms. von der Leyen.
The Number 10 spokesperson said, "The King should decide those things.".
A spokesman for the palace stated, "The King is pleased to meet any world leader who is visiting Britain and it is the government's advice that he should do so.".
Prior to the meeting, a senior government source informed the BBC that a new Brexit agreement for Northern Ireland had been reached at around 14:20 GMT.
The EU attempted to set the Windsor meeting apart from political negotiations by claiming that it was "separate" and "not part" of the discussions over the Northern Ireland protocol.
According to sources at Buckingham Palace, the meeting between the King and the visiting world leader was routine and would build on the King's previous encounters with Ms. von der Leyen.
There will be tea served and photos taken at the meeting at Windsor Castle, which was described in terms of a larger agenda that included discussions about climate change and Ukraine.