Over 275 people were killed in India's worst train accident three days ago, and now grieving families are still looking for their missing loved ones. Vineet Khare of the BBC is reporting from a business park in the Balasore district of the state of Odisha, where bodies are being kept because morgues are at capacity.
The NOCCi Business Park, which has large offices, an outdoor theater, and other amenities, is bustling with people on a typical day as they come to work there.
However, the expansive 10-acre property, which is situated outside of Balasore, had a deserted appearance on Sunday. The only visitors that day were the relatives of the train crash victims who came looking for their departed loved ones.
Over 150 bodies have been moved to the business center since the accident on Friday night, an official on the scene told the BBC. Additionally, information about some of the missing people has been made available by the location.
Over 1,000 people were hurt in the crash on Friday night, which left 275 people dead.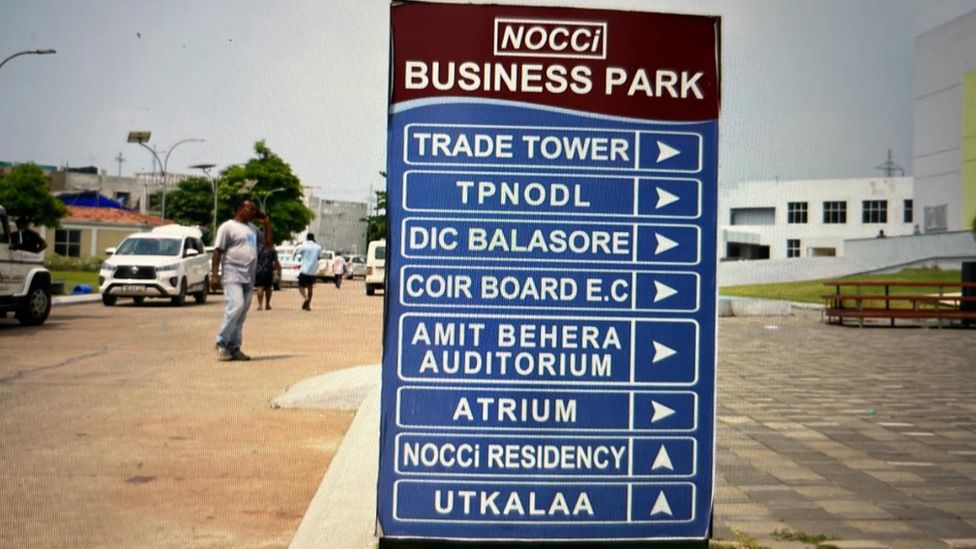 Outside, we encountered a sobbing Seema Choudhary from Malda town in West Bengal state.
Hours had passed with no sign of her husband Deepankar, and she was beginning to lose heart.
She sobbed, "I've been to the hospital, I've looked through the bodies, but I can't find him.
She promised to check hospitals in Bhubaneswar, the state capital, where many of the deceased had been relocated.
Local resident Kanchan Choudhary was standing nearby. She had also searched numerous hospitals for her husband.
She adds, "But I couldn't find him.
Although the process has been chaotic given the scope of the disaster, local officials claim they are doing everything in their power to assist the families in finding their loved ones.
A large hall that has been divided in half can be entered at the business park through a glass door.
Numerous bodies are spread out on the floor on one side of a large black plastic sheet. Due to the enormous amounts of ice that were used to slow the decay of bodies, the sheet is covered in pools of melted water.
The bodies are surrounded by a damaged mobile, some clothing, a tobacco box, and a wallet that may belong to the victims.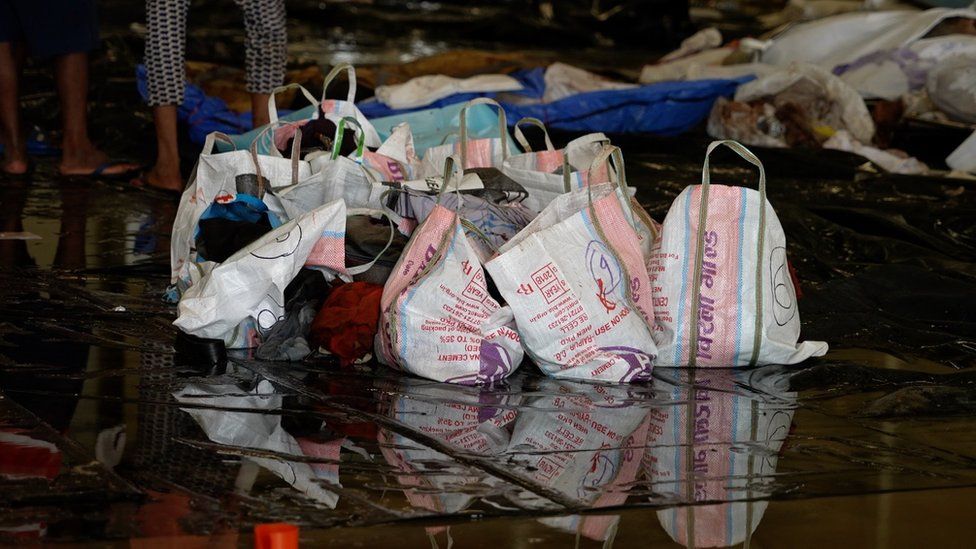 To assist families in locating the deceased's relatives, a projector on the other side of the barrier displays images of the deceased on a screen.
Many people remained still while staring intently at the picture slides that were changing.
More dead bodies' pictures had been placed close by on tables; these belonged to people who had been taken from the business park to nearby hospitals.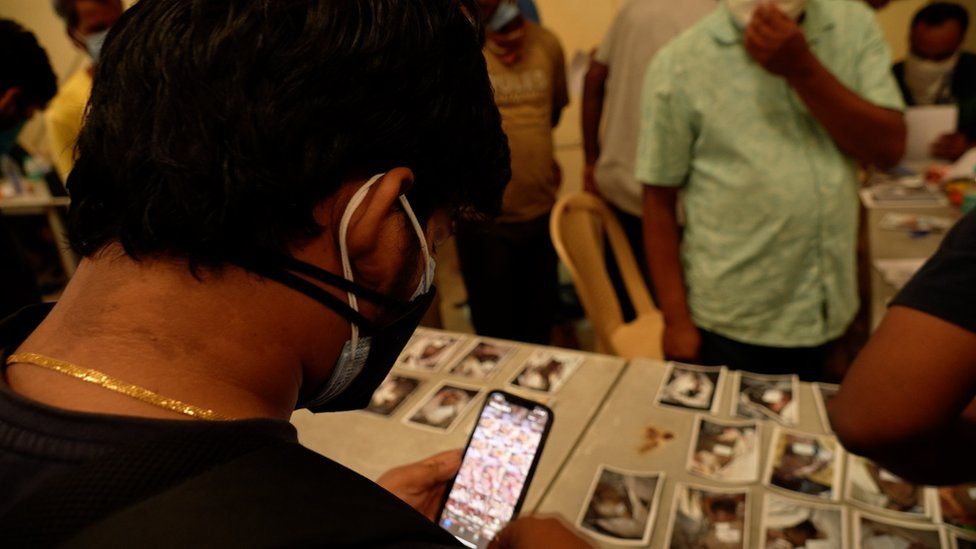 A Balasore resident told the BBC that the air-conditioned hall is big enough to hold all the dead.
However, officials express concern that the location might not be able to hold the bodies for much longer.
Balasore experiences high temperatures, making it difficult to keep the bodies frozen in the extreme heat with current freezing infrastructure. Additionally, a lot of families are traveling from distant locations, sometimes from different states, which makes it harder to identify the bodies.
Nirlipta Mohanty, a district official, told the BBC that "for these reasons it is getting difficult to keep the dead safe for long.".
She continued by saying that they were currently attempting to transport the bodies to Bhubaneswar, which has large hospitals and other amenities.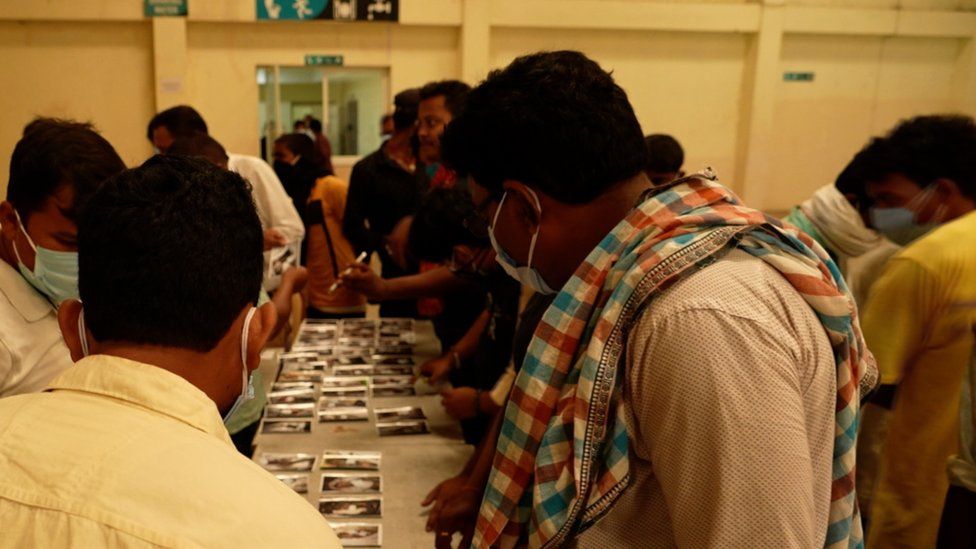 According to Ms. Mohanty, every effort is being made to assist the families. But for people like Sumit Kumar, who had been searching for his relative Neeraj since the previous evening, that wasn't enough.
Mr. Kumar claims, "I was able to find his picture among those of the dead, but I haven't been able to find him.
A social worker at the business park named Uday Kumar believes that rather than placing help desks in remote locations, the administration should place them close to bus and train stations.
Other site employees claim to be worn out and horrified by the extent of the damage.
"I feel awful. Subrat Mukhi, a municipal employee, and his coworkers had been working nonstop since Saturday, assisting families in loading bodies into cars and ambulances to transport them to their homes or to the hospital. "I have been working since 8 o'clock last night," Subrat Mukhi said.
"When I see them, sometimes I start to cry. I imagine how I would feel if I had lost someone, he remarked.