Forecasters are warning of flash flooding, strong thunderstorms, and heavy snow in many areas, putting millions of Americans from Texas to Maine under a winter storm watch.
According to the National Weather Service, a tornado watch is also in place for a portion of Florida and Georgia.
It happens a day after a tornado tore through Texas, wreaking havoc all along its path.
No fatalities have been indicated.
According to PowerOutage . us, more than 160,000 homes and businesses in Texas, Missouri, and Arkansas were without electricity as of Wednesday morning.
According to FlightAware, over 300 flights have been canceled and over 250 have been delayed. The two Chicago airports, O'Hare and Midway, account for the majority of the cancellations.
According to NWS, snowfall in northern New England and the surrounding areas could range from eight to twelve inches, potentially creating hazardous travel conditions. Snowfall from Texas to Maine is anticipated to total between four and eight inches.
According to Rachel Cobb, an NWS meteorologist, the storms on Wednesday are a continuation of low pressure systems that began to move north off the coasts of Texas and Florida.
The storms yesterday were sparked by a large amount of energy and moisture being pulled from the Gulf of Mexico, Ms. Cobb told the BBC. "And as it moves north and north-east, it collides with the cold air, causing heavy snow to fall at a rate of one to two inches per hour. ".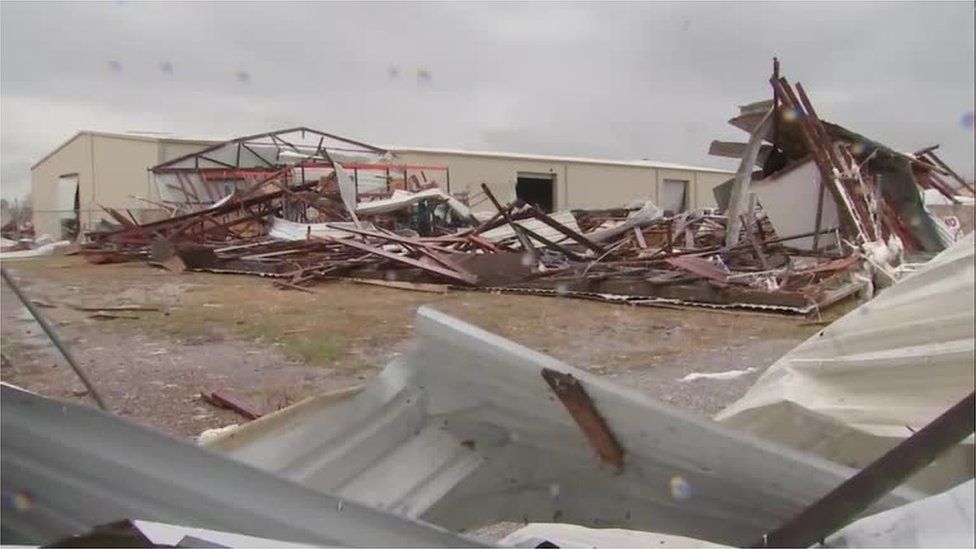 According to her, the main worries are power outages caused by the severe weather, which could affect areas from the Midwest to New England.
Parts of Texas, Louisiana, Mississippi, Arkansas, and Alabama are still at risk for thunderstorms and flash flooding.
Residents in some parts of Texas are still cleaning up debris from the tornado that struck on Tuesday.
The police chief of Pasadena, Texas, Josh Bruegger, told reporters that "in my 25 years here, this is probably the worst damage I've seen.".
Roads were blocked by uprooted poles and downed power lines in Pasadena, which is located 15 miles (24 km) south-east of Houston, and "several commercial trucks were overturned," according to a tweet from the Pasadena Police Department.
As the process of restoring power and cleaning up debris has already started, emergency personnel are preparing for the upcoming storm.
We're going to have our hands full over the next few days, Mr. Bruegger said.