Nigeria's presidential election on Saturday may go down in history as the occasion when the underclass rebelled against authority.
Millions of young people have registered to vote for the first time, inspired by the 2020 EndSars anti-police brutality demonstrations that evolved into calls for good governance. They are hoping to elect a president from a relatively unknown party to represent them and bring about change.
The protesters who camped out in front of the Lagos governor's office for weeks two years ago included Rinu Oduala, a 24-year-old woman. "If Nigeria continues on this downhill, it will be disastrous, so yes, it's a defining moment," she said.
The army brutally put an end to the protests, but it was considered a success that the Sars police unit, known for profiling young people, had been disbanded.
Young Nigerians who have been frustrated by decades of stagnation, insecurity, and high unemployment in Africa's most populous nation appear to have been inspired by this, and they are now vying for the highest office in the land.
Peter Obi of the Labour Party, the candidate that many people are supporting, is 61 years old. He is also not exactly a new face in Nigerian politics, having previously run as the vice-presidential candidate for the PDP, the main opposition group.
But because of his openness, straightforwardness, and track record of fiscal responsibility while governor of the Anambra state, he is regarded as an outlier.
Ovie Esan, a 25-year-old man in Lagos, said, "I should be in the peak of my life right now, balling financially and physically, but there is no money and there are kidnappers everywhere.".
Many charge that President Muhammadu Buhari, who is leaving office after serving two terms, mismanaged the economy and presided over the nation's most unstable time since the 1967–1970 civil war.
Young middle-class Nigerians have suffered financially under his watch as a result of record-high inflation.
One in three of them are unemployed, lecturers frequently go on strike, and many of Nigeria's best people are frantically trying to leave the country.
Armed groups also killed more than 10,000 people and kidnapped more than 5,000 last year alone, according to the International Crisis Group, a result of the country's pervasive insecurity.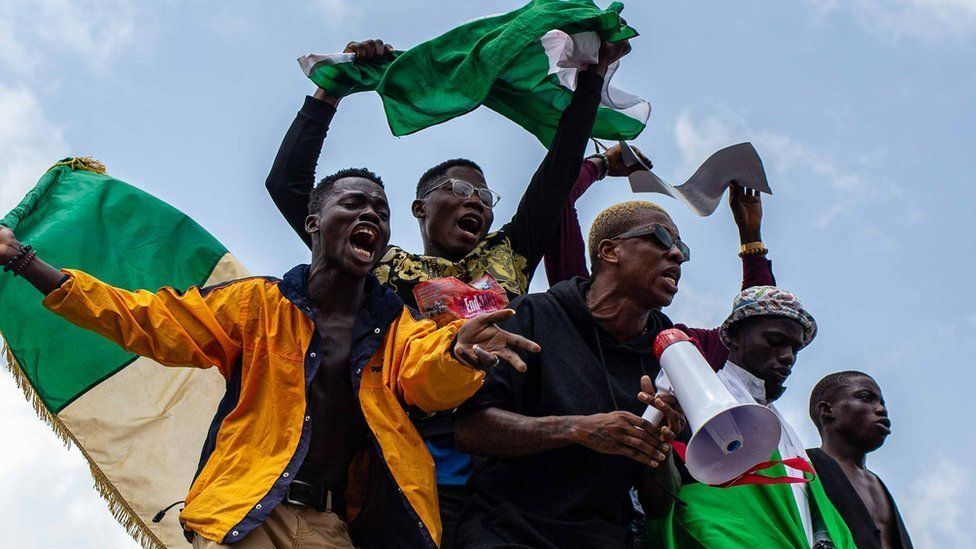 Mr. Obi, who represents the possibility of a new era, is competing against the two political titans that have alternated in power since the end of military rule in 1999: the All Progressives Congress (APC) and the People's Democratic Party (PDP). In a nation where one in three of Nigeria's 210 million inhabitants is under the age of 35, their candidates are both in their 70s.
Many voters' decisions are also influenced by their ethnicity and religion.
Mr. Obi can count on the votes of Christians who feel persecuted in the predominantly Muslim north as well as the open support of Nigeria's large evangelical Christian movement in the south.
Mr. Obi is an Igbo from the east, the only significant ethnic group in Nigeria that has not yet produced a president. The APC and PDP candidates will have the support of many people in their home regions, the south-west and north, respectively, even though some believe it is their time to be in power.
Mr. Obi's victory is far from assured.
The APC and PDP benefit from widespread name recognition across the nation, whereas the Labour Party appears to struggle with it, particularly in the north's vote-rich rural areas.
In villages where voters are swayed by local leaders, both parties may also rely on tried-and-true political machinery to mobilize the electorate on election day.
Despite having enormous oil and gas reserves, Nigeria has been constrained since gaining independence in 1960 by pervasive corruption.
The ruling class, whether military or civilian, has been unable to give the vast young population access to necessities like reliable electricity, pipe-borne water, or jobs.
Many people now appear to have had enough of the "election of young people," as the head of the electoral commission has referred to it. A record number of 93 million people—40% of whom are under 35—have registered to vote.
If they vote in large numbers, it might mark a turning point in the history of the nation and provide an opportunity to start over.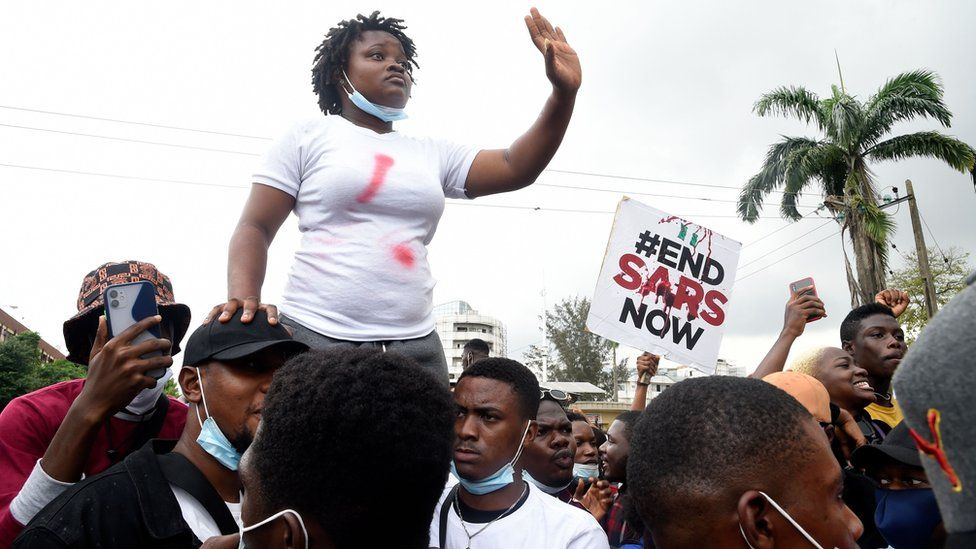 "There is only so much more we can take before the renowned "Nigerian resilience" breaks down. It is impossible to overstate the significance of Nigeria's stability for West Africa, Africa, and the entire world, according to Ms. Oduala.
Because of their concerns about violence on election day and the lackluster field of candidates, young, upwardly mobile Nigerians and millions of middle-class people in the south have historically been largely apathetic toward elections.
But Mr. Obi has raised interest in this election.
Atogu Nneka, vice-principal of a state secondary school in Anambra's capital, Awka, where the Labour Party candidate enjoys enormous popularity, said of the candidate, "He believes in human capacity and invested so much in education.".
Mr. Obi has surrounded himself with many of the EndSars protesters and claimed that young people are running for office through him.
They include Aisha Yesufu, whose photograph of her raising her fist taken on the day that young protesters camped outside the police headquarters in Abuja in 2020 came to represent the group.
She delivered a stirring speech during Mr. Obi's final rally two weeks ago in Lagos, saying, "They dared us to go into politics and change the government and that is what everyone is doing.".
However, a winner must receive votes from outside of his base in order to be assured victory in an election where the frontrunners are from the three main regions of the nation. Mr. Obi faces this challenge more than the other two candidates.
In the rural neighborhood of Bakiyawwa, located in the northern Katsina state, one woman said, "We only recently started hearing of him but nobody knows him in our village.".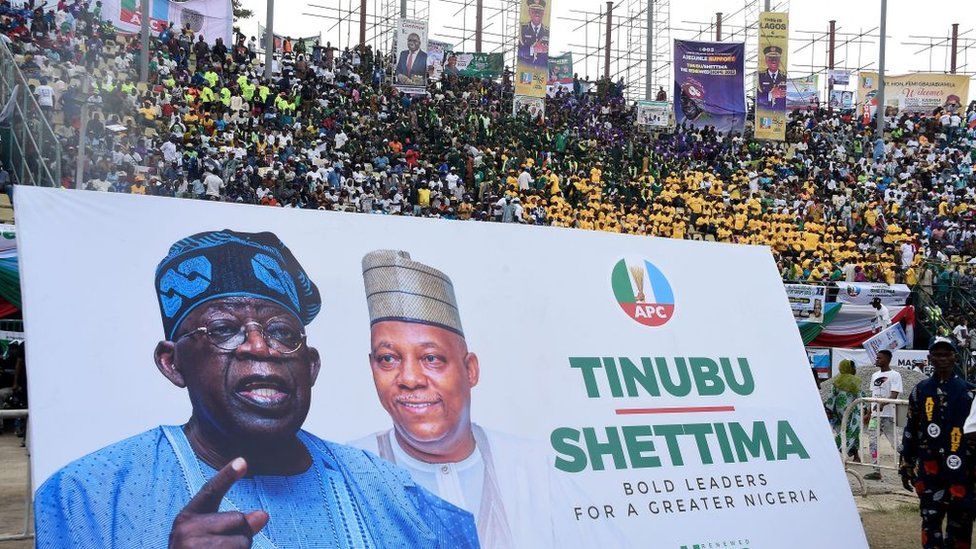 Bola Tinubu, the party's candidate, is widely credited with reshaping the commercial hub Lagos while serving as governor from 1999 to 2007. Many people view the election as a referendum on the ruling party.
The 70-year-old Mr. Tinubu, who played a key role in President Buhari's election in 2015, has said controversially that he cannot be evaluated based on the performance of the current administration.
However, for many people, it is challenging to look past the struggles of the previous eight years, which have been made worse by the commotion that the recent introduction of new banknotes has caused.
Many people have spent the night in front of banks and cash dispensers while they wait for the new naira notes, which are in short supply in a nation where many people rely on cash.
The redesign, according to the government, will help lower inflation, and it has accused banks of hoarding cash, but many believe it is aimed at politicians who buy votes on election day. Reactions to the policy have been mixed.
Many voters on Saturday will have this issue on their minds because it has caused significant rage and riots in some states.
At a cash machine line in Lagos' Victoria Island, a taxi driver said, "You would think that the APC is not trying to win this election.".
Because so many young people are worried about his health, Mr. Tinubu is also having a difficult time persuading them that he is the right candidate for the job outside of his home region. On campaign grounds, he has been seen needing assistance when standing or climbing stairs, and his speech can occasionally be difficult to understand.
Though many in the south-west of the nation believe that his legacy in Lagos, where he quadrupled state revenue and improved its infrastructure, is exactly what Nigeria needs, he is well-liked there.
In the Balogun neighborhood of Lagos Island, where Mr. Tinubu has a square named after him, Rukayat Owolaranfe, a market leader, said, "He has an eye for talent and will surround himself with people who can get things done.".
But many view him and the PDP candidate, 76-year-old former vice president Atiku Abubakar, as members of the old order who are to blame for Nigeria's problems.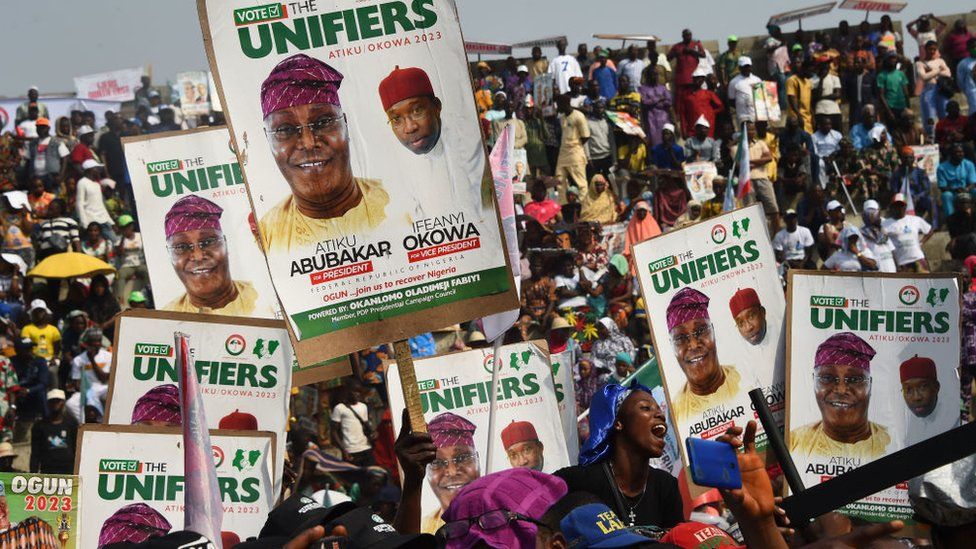 During the majority of the PDP's 16 years in power, oil sales increased government revenue. However, it was a period marked by allegations of widespread corruption, some of which Mr. Abubakar has denied.
Since 1993, Mr. Abubakar has run for president six times, changing parties each time, which has caused many young people to doubt the originality of his ideas.
However, his supporters view him as the candidate with the most experience. He will have a lot of support in the north because he is the only significant candidate from there. He has pledged significant changes that will restructure the nation.
Francis Ugwu, a PDP supporter from Rivers state, said: "Nigerians are looking for a messiah but the problems are institutional and can only be solved by correcting fundamental issues.".
However, Mr. Obi stands for the optimism that underpins Blessing Ememumodak's future, a 19-year-old first-time voter.
"Only those who have bad intentions for this nation will let the chance to elect Peter Obi slip by. Eight years is a long time, or even four years with a bad president, she asserted.
For Nigeria's future, it appears that the election will pit an unstoppable force against an immovable object. Whoever prevails, it feels like the start of a new era, one in which Nigeria's sizable young population won't be ignored any longer.