In his series of letters from African journalists, Mark Wilberforce examines the close ties between Ghana's vibrant musical scene and Jamaica.
Afrobeats may be the popular music in Ghana and many other African nations right now, but Jamaican music is still played loudly almost constantly in Ghana's roadside and beach bars. Reggae night is held every Thursday in two large clubs in Accra, the country's capital, amplifying the already hot weather.
Ghana demonstrates that the roots of reggae music have spread widely and have produced homegrown talent. Jamaican musicians like the late greats Bob Marley and Peter Tosh and the group Culture are widely credited with sowing the seeds of reggae music on African soil 50 years ago.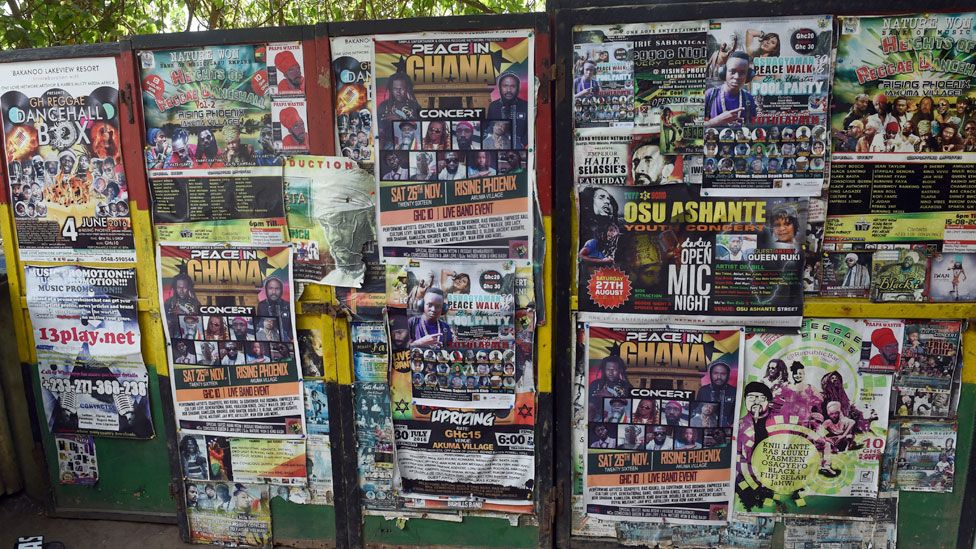 It is not uncommon to hear Ghanaians speaking a little Jamaican Patios these days, which is distinct from Pidgin English, a lingua franca spoken by about a fifth of Ghana's population. This love of reggae has also had a cultural impact on the language.
Consider Stonebwoy, aka Livingston Satekla, one of the most well-known reggae-dancehall performers to emerge from Africa. His stage name pays homage to Jamaican patois with its spelling.
In Jamaican Patios, "Ah who dat bwoy weh im ah sing fi deh?" is used in place of "Who be dat boy weh he de sing for deh?" in Ghanaian Pidgin.
In a recent interview, Stonebwoy and I talked about how Patois usage is increasing in Ghana despite opposition from some Ghanaians.
If you love reggae-dancehall, you should learn Patios, the 34-year-old musician told me. "What's wrong with learning to communicate in Patios, which comes with reggae-dancehall as a core tool of communication?
In order to sound like his Patios-speaking heroes, Stonebwoy, who was raised in the Ashaiman ghetto outside of Accra, would frequently listen to Jamaican dancehall dons like Capelton, Anthony-B, and Beenie Man.
Later, he would host some of the same individuals at his BHIM Concert, arguably one of the most popular dancehall events in Africa.
It occurs in December as a part of Ghana's Beyond The Return campaign, a program created to entice citizens of the diaspora to travel to the nation.
It attracts large crowds, myself included, and last year's performance by Jamaica's Busy Signal had a lot of his fellow citizens singing along to his hits.
Some audience members were sporting the Rastafarian style dreadlocks.
The rasta message has been widely disseminated thanks to reggae. It has also served as an advocate for Africa, praising the continent's beauty and highlighting its natural resources while encouraging those living abroad to return to their native continent.
This contributed significantly to the strengthening of the connection between reggae and Africa, particularly during and after colonial rule.
It makes sense that Ghana, one of the first African nations to achieve independence (from the UK in 1957), would be drawn to the reggae's sounds of conflict and struggle. With six military coups occurring between the 1960s and 1980s, it has seen its fair share of conflict and struggle.
Kojo Antwi, also known as Mr Music Man, was one of Ghana's first well-known reggae musicians.
Antwi began his professional life in the 1970s as a member of the reggae group Classique Handles, which later became Classique Vibes. In their self-titled debut album from 1979, the band discusses the economic hardships of the ghetto and how a lack of employment options can result in starvation.
By the middle of the 1980s, Antwi would become better known for love songs with lyrics in his native Twi, performed to a less political lovers' rock reggae beat. These songs would later serve as an inspiration for other significant Ghanaian musicians.
A young northern Ghanaian of royal descent named Rocky Dawuni was starting to make waves on the international reggae scene with the 1998 hit song In Ghana while Mr. Music Man was serenading his home country. His growing popularity led to three Grammy nominations and the inclusion of some of his songs on various US TV dramas.
If reggae is the parent, dancehall is undoubtedly the cheeky offspring with its expert lyricism and Patois tones.
Samini, known for his upbeat live performances and singing in Pidgin, Patois, and Twi, is one of the first prosperous descendants of this in Ghana. .
He is frequently referred to as Africa's King of Dancehall Music and has won awards from both domestic and international organizations, including a Mobo for Best African Act in 2006 and an MTV Africa Music award for Best Live Performer in 2009.
Samini, not content with his individual successes, played a significant part in Stonebwoy's career launch as well as the career launch of Mugeez, a prominent Ghanaian musician.
Additionally, Shatta Wale is a legitimate challenger for the dancehall throne in Ghana.
He performed while still a student in Accra under the aliases Doggy and Bandana, scoring one hit in 2004, before fading into obscurity.
For his resurrection to occur, a trip to Jamaica was necessary.
He came back as Shatta Wale, with a devoted fan base and a long list of hits, including a monumental collaboration with Beyoncé on the song Already in 2019. The 38-year-old's business acumen has also translated to success; he is the owner of the Shaxi brand of cabs.
Two of Africa's biggest reggae-dancehall artists right now are Shatta Wale and Stonebwoy, who made a memorable appearance at the Asaase Sound Clash in 2020 during Covid.
The onstage competition, a Jamaican musical custom, was hosted by Grammy-winning producer and BBC broadcaster Seani B and live streamed around the world.
The phrase "dat tune deh mad" (Jamaican Patois for "that song is awesome") rang through the venue as each artist tried to outdo the other and receive praise from their fans.
Both sets of supporters thought their man had prevailed that evening. However, GH Dancehall, a true child of Jamaica, emerged as the true victor.
Follow BBC Africa on Twitter @BBCAfrica, BBC Africa on Facebook, or BBC Africa on Instagram.