After protesters in London painted the road outside the Russian Embassy in the colors of the Ukrainian flag, four people were detained.
Prior to the first anniversary of the war in Ukraine, Led by Donkeys painted the street in Kensington Palace Gardens in yellow and blue.
The group claimed it wanted to bring up Ukraine's "right to self-determination" with the president of Russia.
Three men and one woman, according to the Met Police, are still being held.
The anti-Brexit group Led by Donkeys, which was founded in 2018, claimed to have painted the eastbound carriageway with 170 liters of yellow paint and the westbound side with a similar amount of blue paint. Passing traffic then spread the colors across the road.
"Tomorrow is the first anniversary of Putin's imperialist invasion of Ukraine, an independent state and a people with every right to self-determination," the group wrote in a tweet outlining the protest.
It will serve to remind him of that that there is a large Ukrainian flag outside his embassy in London. ".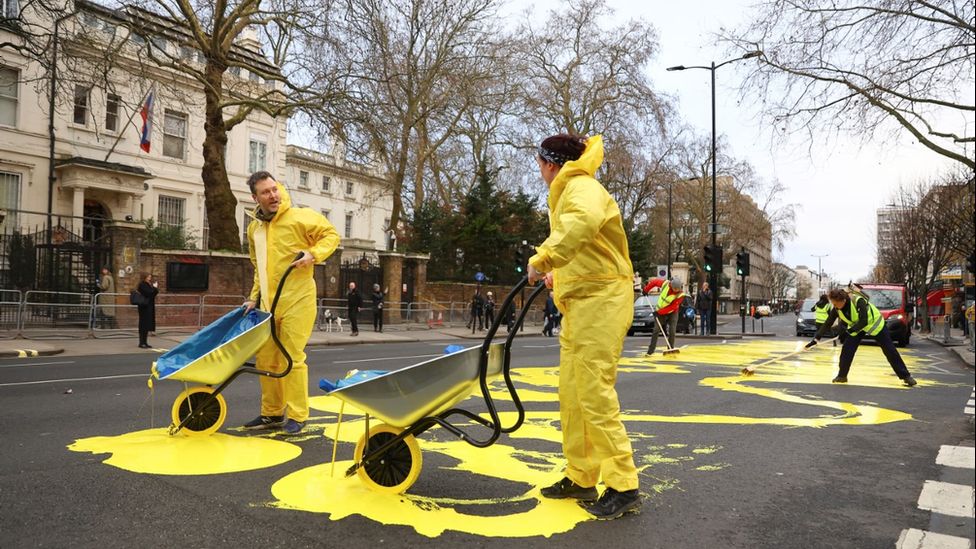 According to the Met, reports of paint being thrown on the road prompted officers to be dispatched to the area at 08:45 GMT.
The four individuals were said to have been detained after being arrested on charges of causing criminal damage and obstructing a highway.