Is the UK government prepared to use a well-known Stormont veto power in order to win the Democratic Unionist Party's (DUP) cooperation on a Northern Ireland Protocol agreement?
The DUP's main demand has been to address the protocol's "democratic deficit.".
One of the DUP's seven tests outlines the requirements that any agreement must meet in order for the party to support it.
Any agreement "must give the people of Northern Ireland a say in the making of the laws which govern them," according to the clause.
One strategy being discussed amidst the negotiations would involve a modified version of Stormont's contentious petition of concern.
It is intended to defend minority viewpoints and prevent majority rule.
To ensure that approval can only be granted with widespread community support, the petition needs to be signed by 30 assembly members.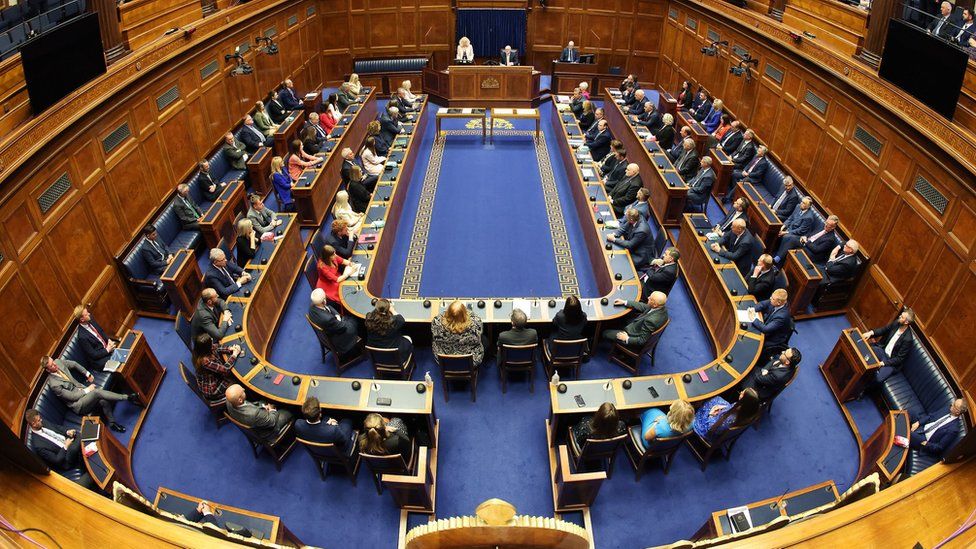 The procedure was initially created as a way to protect minority rights in the Stormont assembly and was introduced as a part of the Good Friday Agreement.
Any motion or amendment will require cross-community support if a petition of concern is submitted to the assembly Speaker.
In such cases, the proposed legislation will only be approved if it receives the support of a weighted majority (60%) of the members voting, including at least 40% of the nationalist and unionist designations who are present and voting.
This effectively means that a community can exercise a veto over the assembly's decisions if a majority of its MLAs agree.
A petition needs 30 MLA signatures to be considered legitimate.
With Stormont's full support, could that tool now be used to try to block any new EU rules or regulations?
Again, only 30 assembly members would be necessary to object to a regulation and inform the government of that objection.
The government would then have the opportunity to contest that rule and refuse to participate in the Joint Committee with the EU, which oversees the protocol's execution.
A solution like this would give Stormont politicians their power back, and the 30-signature requirement would only allow unionists to object to regulations.
However, it wouldn't be the same as a Stormont veto on its own.
Instead, the government would be responsible for bringing up the matter with the EU.
Although it is unclear if such a mechanism has been formally brought up in the discussions with the DUP, it has been brought up in some circles.