A nonprofit organization that supports Ukrainian refugees is brewing beer to raise funds for its initiatives.
Together with the neighborhood brewery Hop Kettle, Swindon Welcomes Ukraine is making the beverage, with a portion of the sales going to the nonprofit.
The name of the beer, Volya, is Ukrainian for "Freedom.".
The committee's chair, Sofiia Volovyk, said it would help "even more Ukrainians looking for refuge.".
It has been incredibly satisfying to support hosts and Ukrainians who are cohabitating, she continued. ".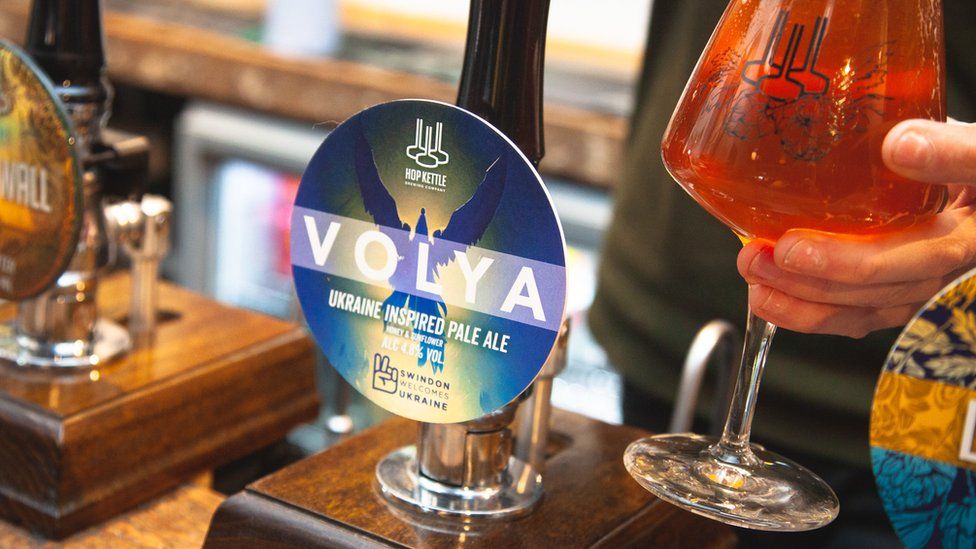 The brewing process for Volya incorporates both sunflower seeds and honey, two national flavors and symbols of Ukraine.
Yana Shatoka, a member of Swindon Welcomes Ukraine, told BBC Radio Wiltshire that the project would help keep the Russian invasion of Ukraine "as a topic in people's heads.".
She continued, "More people need to open their homes for Ukrainians who'll come. Connecting Swindon people with Ukrainians is a very important thing.".
The committee's vice-chair, Kris Talikowski, said: "We've accomplished a lot in our first year and assisted the new community in adjusting to life in Swindon.
We've been raising money, so when Hop Kettle contacted us about making a batch of beer inspired by Ukraine to raise money, we were thrilled to collaborate.
On Friday night, a "first-pour" was held at a bar in Old Town, Swindon, and plans exist to brew more of the beer at the Hop Kettle brewery.