The military of Canada claims to have recently uncovered proof of Chinese surveillance operations in the Arctic.
China's activities in the far north have come under scrutiny in light of the discovery, which was first reported by the Canadian newspaper The Globe and Mail.
It follows the shooting down of a suspected Chinese spy balloon by the US military after it had flown through Canadian and US airspace.
Recently, China has also been charged with meddling in Canadian elections.
As part of Operation Limpid, a continuous mission by the Canadian military tasked with identifying security threats to the nation by monitoring air, land, and sea domains, surveillance buoys were found and retrieved last fall.
In a statement, Daniel Le Bouthillier, a spokesman for the Canadian Department of National Defence, said that the military is "fully aware of recent efforts by China to conduct surveillance operations in Canadian airspace and maritime approaches.".
Using "dual-purpose technologies," or tools that conduct surveillance for both research and military purposes, Mr. Le Bouthillier continued, China accomplishes this.
He claimed that since 2022, attempts to spy on Canadian territory have been thwarted by the military, but he didn't go into further detail.
The Arctic has long piqued China's interest. It participates in most significant Arctic institutions and has dispatched high-level representatives to the area 33 times in the past 20 years.
Additionally, it has increased the size of its fleet of icebreakers and sent naval ships north, frequently on research expeditions.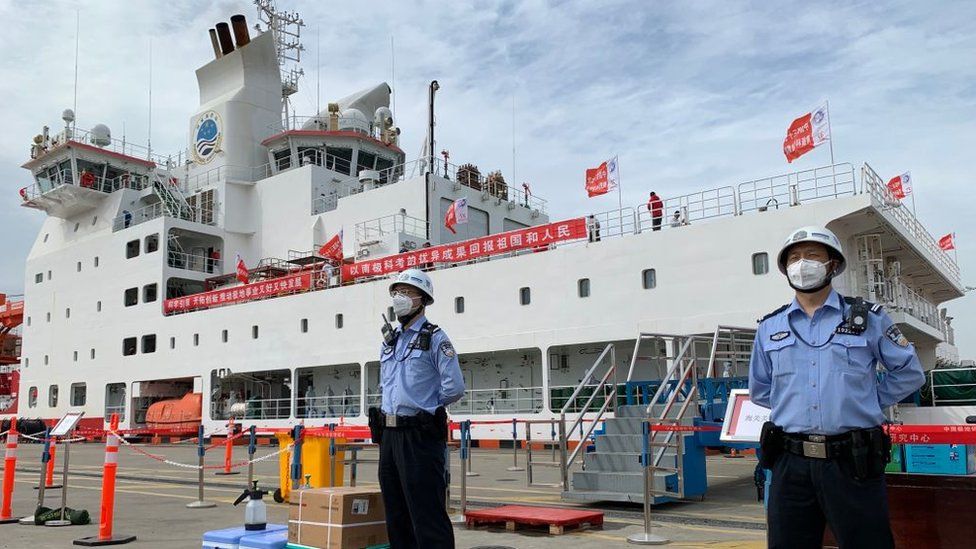 As the ice sheets melt due to climate change, China hopes to open up a shorter trade route to Europe through the area and gain access to new resources.
However, according to experts, China's research interests in the area have doubled as efforts to spy on military assets in the Arctic.
Their initiatives are part of a larger push by several Arctic countries, including the US, Canada, Finland, Russia, Norway, and Sweden, to realize the region's untapped potential.
A senior fellow at the Centre for International Governance Innovation and a former senior official in the Canadian Armed Forces, Roberto Mazzolin said, "This is a part of the world that has not been mapped and understood to the same degree of detail as other latitudes.".
According to Mr. Mazzolin, Canada has traditionally regarded the Arctic as a region of safety with little threat potential. But Russia and, more recently, China's interest in the area has changed that.
He said that in order to protect both Canadian and American interests, "[Canada is forced to] look at how we would posture our own security, our military defense, or our economic development activities.".
According to Melanie Joly, the foreign minister of Canada, China is becoming a more disruptive power, she told CNN on Wednesday.
In order to safeguard North American airspace as well as Canadian sovereignty over the Arctic, Ms. Joly continued, Canada and the US collaborate closely.
The discovery of the Chinese buoys by the Canadian military follows the disclosure by Canadian intelligence that China had attempted to sabotage Canada's most recent federal election in 2021.
The Canadian Security Intelligence Service detailed China's attempts to re-elect Justin Trudeau's Liberals to a minority of government and to ensure the defeat of Conservative politicians who are viewed as being hostile to China in documents that were first reported on by the Globe and Mail.
According to The Globe's reporting, it did this by giving money to preferred candidates, disseminating false information, and employing paid interns and consulates to support particular Liberal candidates.
Parliamentarians in Canada are currently looking into claims that China meddled in the country's 2019 federal election. They widened their focus to include the 2021 election on Tuesday.
On Wednesday, Prime Minister Trudeau referred to the alleged Chinese interference in the election as "an extraordinarily serious issue" and indicated his support for further investigation.
The interference attempts, he continued, seem to have been unsuccessful so far, but they continue to spark worry that foreign nations are attempting to meddle in Canada's democratic processes.
Mr. Trudeau claimed that "foreign actors are attempting to undermine peoples' confidence in democracy itself.".
Chinese representatives in Canada have refuted these claims, claiming they do not meddle in domestic or electoral affairs in Canada.
After a Chinese balloon was spotted flying over North America earlier this month, news stories focused on China's alleged surveillance activities in that region.
Canada and the US both claimed that the balloon was spying on important military equipment. China, on the other hand, insists that it was a weather balloon intended for use by the general public that veered off course.