According to the UN, Syria's government has agreed to open two more border crossings so that aid can reach the nation that was devastated by last week's deadly earthquakes.
It will have a significant impact. We are currently only using one crossing, a UN Secretary General António Guterres spokesman told the BBC.
Nearly 40,000 people in the two countries were reported to have perished as a result of the earthquakes in neighboring Turkey.
The lack of assistance for their war-torn country has infuriated many Syrians.
The administration of President Bashar al-Assad has attributed challenges in rescue operations to the effects of Western sanctions placed on the nation.
However, according to international aid organizations, the main obstacles are the Assad government's poor management and refusal to engage with all regions of the nation.
The earthquakes on February 6 are believed to have killed more than 5,700 people in Syria.
The number of fatalities in Turkey has already surpassed 31,000.
Aid organizations warn that the number of homeless people in Syria could be much higher than the more than one million who are now homeless in Turkey.
The likelihood of finding any more survivors is dwindling, so rescue teams from both countries are now scaling back their efforts in the vast area.
Following high-level talks with President Assad in Damascus on Monday, the UN announced the opening of the two new border crossings at Bab al-Salam and al-Raee on the border with Turkey.
It stated that the initial opening period for the crossings into the rebel-held northwest of Syria would be three months.
Speaking to BBC Radio 4's World Tonight program, Mr. Guterres' spokesman Stéphane Dujarric said, "Very soon we will use the other two crossings.".
"We hope the agreement will be in effect for as long as we need it. The only assumption I want to make is that people will put politics aside regardless of where they stand in this conflict. We will begin using it as soon as possible. ".
He made no further mention of the opening dates for the two crossings.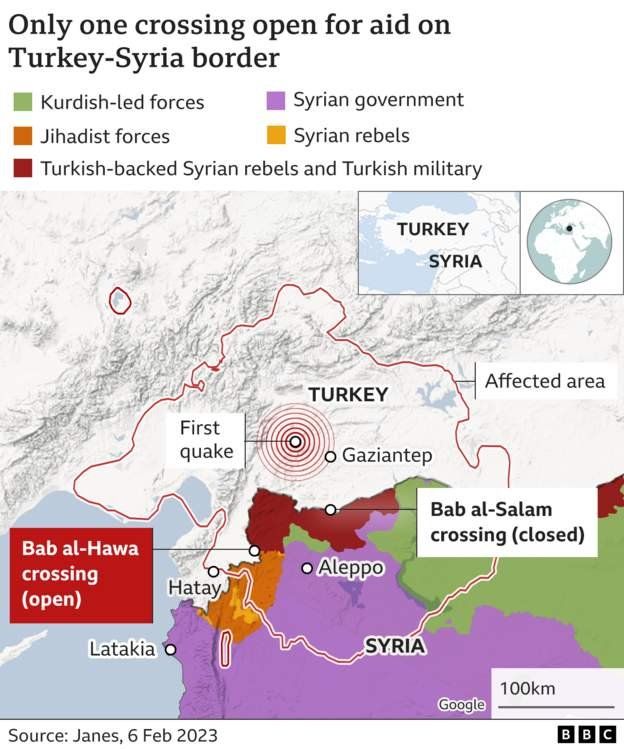 Additionally, Mr. Dujarric defended the wait for Syria's approval to open the crossings.
"From what we understand, these border crossings have been utilized by other aid organizations that are not connected to the UN. Because of the UN's structure, we must operate within certain bounds. ".
A public statement on the subject has not been made by President Assad.
In the early days following the earthquake, some supplies, mostly from friendly nations like Russia, Iran, and the United Arab Emirates, reached the government-controlled areas of Syria.
However, the devastated, by rebels, northwestern parts of Syria are still essentially cut off.
This is due to the fact that only one crossing from Turkey or through the government-controlled areas of Syria allow for the delivery of international humanitarian aid to these regions.