Scottish firefighters claim they will never forget the "biblical destruction" they witnessed during the Turkey earthquake rescue operations.
A team made up of 77 members from the UK International Search and Rescue (UKISAR) was sent out, including John Aitchison, Steven Adams, Tony Armstrong, and Keith Gauld.
On the 10-day mission, they claimed that despite the destruction, they still found hope.
There have been confirmed fatalities totaling more than 44,000 in northern Syria and southeast Turkey.
Firefighters and staff from 14 different fire and rescue services made up the UKISAR team.
We'll never forget the complete carnage and biblical-scale destruction that occurred, according to Mr. Aitchison.
"I'm still thinking about that. The team will need a lot of time as we go forward to process that. " .
Watch commander Mr. Aitchison works out of the Portlethen Training Center.
Firefighters Mr. Armstrong and Mr. Gauld are stationed at the North Anderson Drive fire station in Aberdeen, while crew commander Steven Adams is at the MacAlpine Road fire station in Dundee.
The city of Kahramanmaras served as the epicenter of the 7.8-magnitude earthquake that occurred on February 6.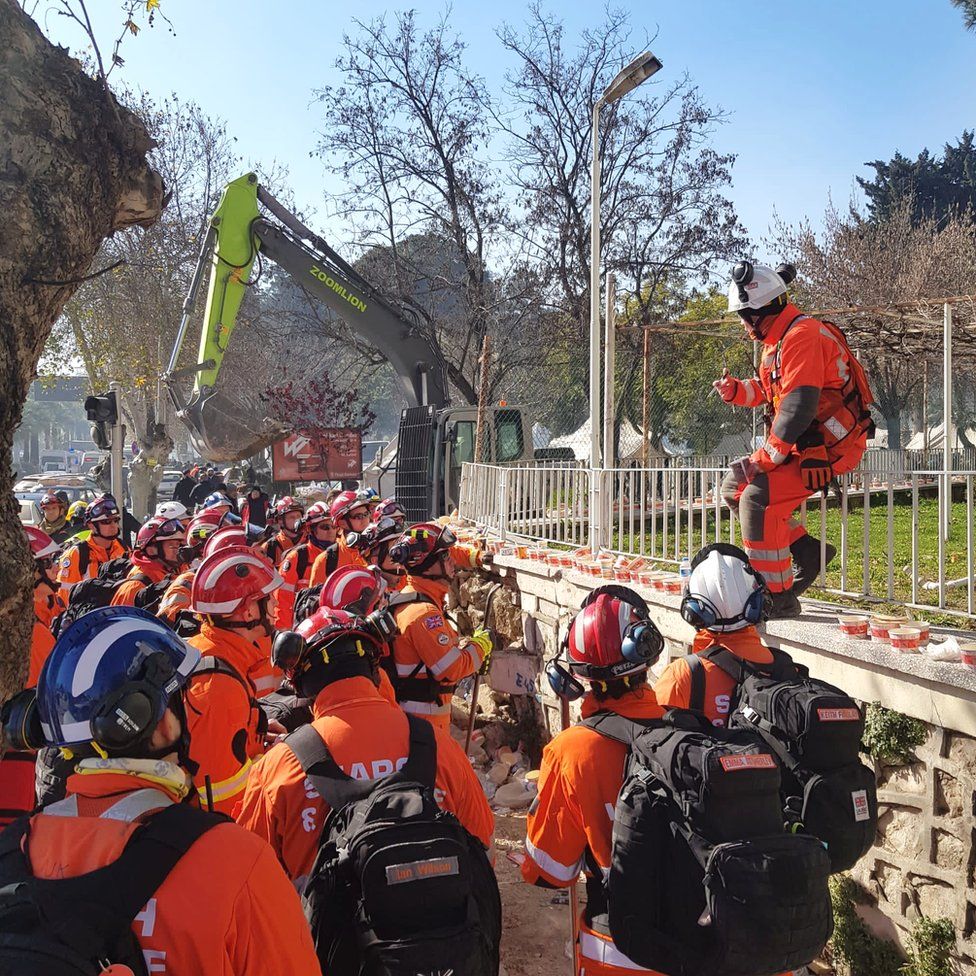 As we made our way toward the city center, Mr. Aitchison remarked, "Bit by bit, we could see things getting worse and worse. It resembled being on a movie set.
"Multi-story buildings appeared to have been picked up and thrown back to the ground. Some buildings were on their sides, while others were upside down.
"There were people crying and asking for our assistance. On the potential for live causalities, we had to concentrate. We needed to keep going. Every team member found it extremely difficult to leave those who were sobbing for their loved ones.
"We could only concentrate on saving live victims, which was very challenging for us. However, we came away with the positive that we rescued eight people in the team by ourselves, and the dog also picked up on another three people who other teams later rescued. ".
According to Steven Adams, the city was in a "hope and desperation" mood.
"They were looking for any kind of assistance as well as the recovery of their family members," he said. Our responsibility was to aid in the selection of suitable work locations for live casualties.
They were extremely appreciative of our assistance during this time of destruction and when they believed there was no hope left.
"It's a tremendous honor. My sense of obligation was enormous. It is impossible to overstate the bravery and dedication displayed by all 77 members of the team. ".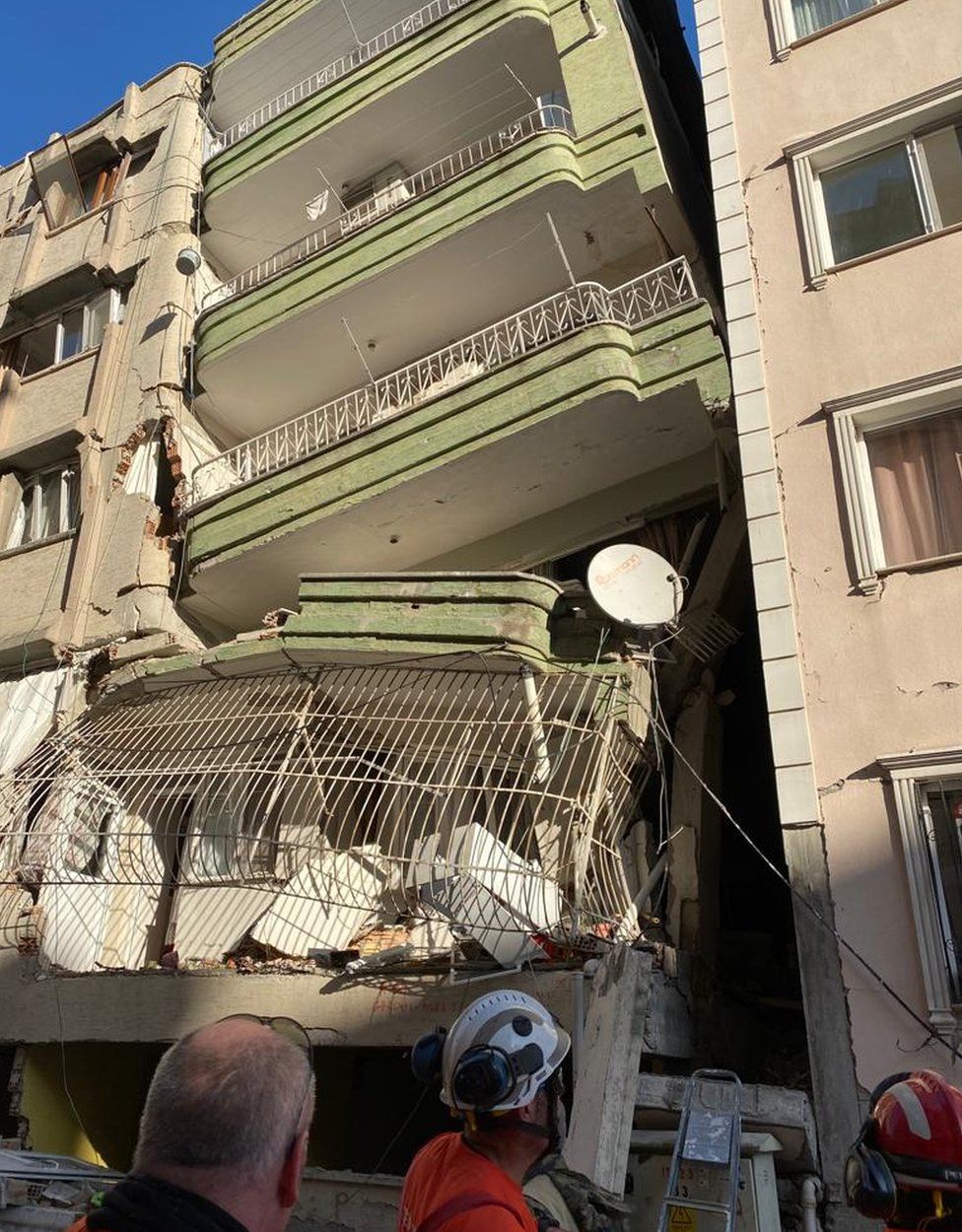 Mr. Armstrong admitted that he was anxious about their mission.
He said, "You could understand their heartache; the locals were very nice people.".
"My heart breaks for everyone who has been harmed by the earthquakes. Some people have absolutely nothing. They burned furniture at night to stay warm while sleeping in their cars or in bus stops. " .
"The noise was my first impression," Mr. Gauld continued. Ambulances were making their way around the city. The extent of the damage. Buildings of every kind collapse. The scale, where every building was either destroyed or damaged, was really what got me.
"My thoughts are constantly drawn to the courage and tenacity that the Turkish people exhibited. You feel extremely fortunate to have a home and family to return to, and I do find myself thinking about their struggle, but also about how they dealt with it and overcame it, as well as how independent they were. " .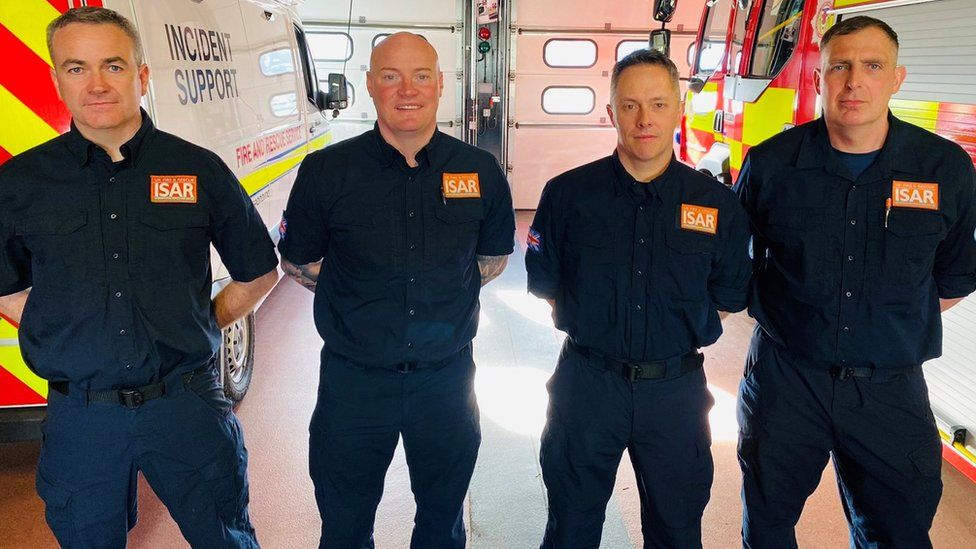 Prior search and rescue operations included Mr. Aitchison and Mr. Adams.
Following an earthquake close to Kathmandu in 2015, they were sent as a part of a team to Nepal.
For the other two firefighters, it was their first ISAR operation.
They were based in a temporary village of tents in Hatay while in Turkey.
In an effort to aid those who are still without homes, the tents will be left behind.
In Scotland, UKISAR team manager Bruce Farquharson is a deputy assistant chief officer.
We're so proud of the team, he declared.
They left Scotland on short notice, put their lives on hold, and traveled to Turkey in appalling conditions to aid.
The team acts in this way for this reason. to save lives by utilizing their training, expertise, and skill set. We feel a great deal of pride about it, and it motivates us to keep doing what we're doing.
. "