Storm Otto, the first named storm of the year, is expected to hit Scotland and England on Friday.
The Met Office predicted winds of 60 to 70 mph, with gusts as high as 80 mph on exposed Scottish coasts.
For almost all of Scotland, a yellow warning has been issued from 3:00 to 15:00, and for the Borders and north-eastern England, one has been issued from 5:00 to 15:00.
Large waves along the North Sea coasts and a chance of some building damage are examples of potential effects.
Customers of ferry company CalMac have already been informed that there will be delays in service between the mainland and islands off Scotland's west coast.
A strong Atlantic storm, according to the Mountain Weather Information Service, could bring gusts of up to 100 mph to upland regions from Scotland to the Pennines.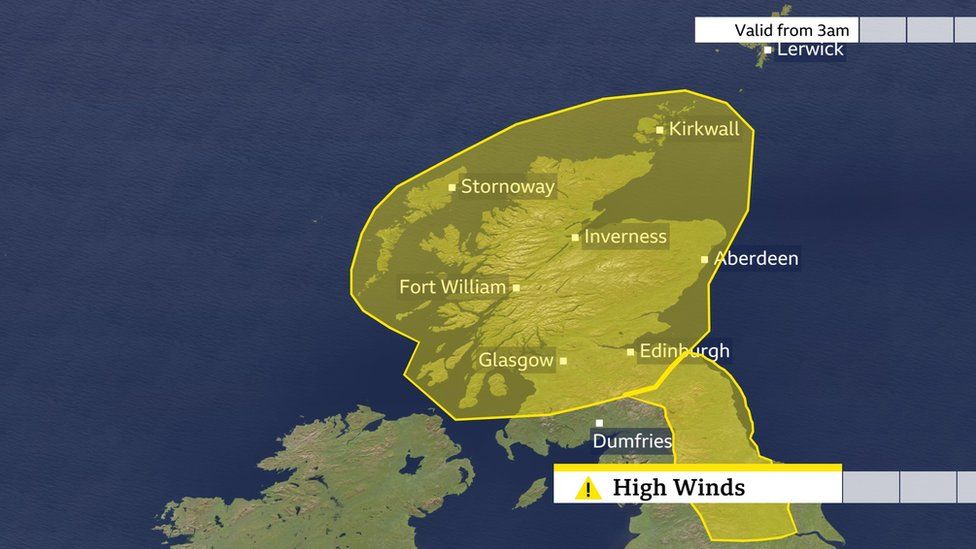 The Danish Met Office has given the storm the name Otto. The same name has been adopted by the UK Met Office.
Since Franklyn last February, this is the first named storm to make landfall in the UK. The named storm season, which is run by the Met Office from September to September, aims to increase public awareness of severe weather.
According to chief meteorologist Andy Page, Storm Otto will bring heavy rain and strong winds to the UK. Scotland's north and the northeast of England are likely to experience the strongest wind gusts, which could exceed 75 mph.
"Warnings have been released and may change as Storm Otto intensifies.
"There is a chance for travel disruption, and high-sided vehicles may be especially vulnerable to plans getting derailed in this situation. Storm Otto is associated with rain, and portions of western Scotland could see 40 to 50 mm of rain. ".
75 mph winds caused delays to flights and ferry services in the Highlands and Western Isles earlier this month.