Due to severe erosion and the possibility of homes falling into the water, a beach has been closed.
Up to two properties in The Marrams could start to fall from the dunes, according to the Hemsby Lifeboat crew in Norfolk, who expressed their concern.
At 22:48 GMT on Saturday, a high tide of 11ft (3.3m), or about a metre higher than average for Hemsby, is predicted.
In 2018, homes fell off the cliffs, and the lifeboat crew made an appeal for more sea defense supplies the previous year.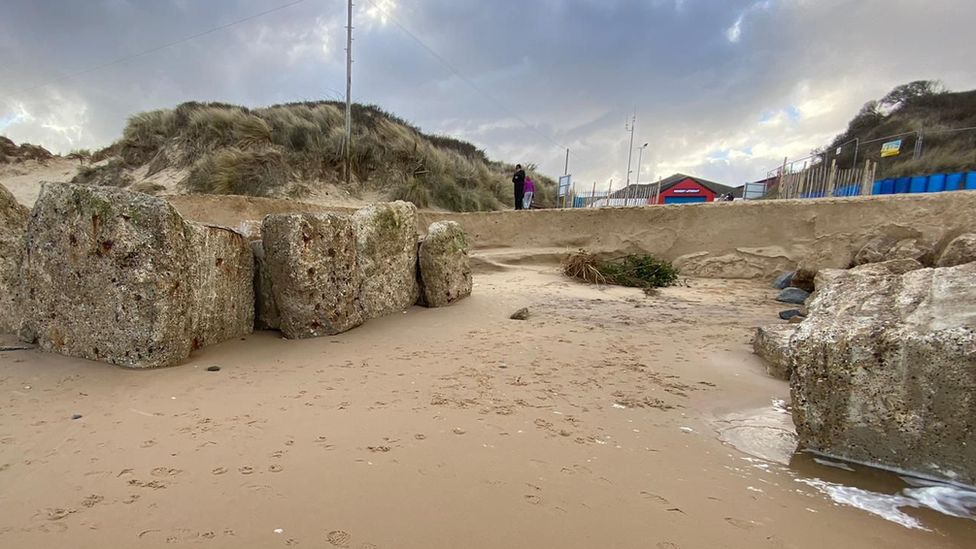 Daniel Hurd, the coxswain at Hemsby Lifeboat, said a woman in one of the properties was leaving and emptying her home, but added the second household had decided to stay and monitor the situation.
He said the rear of one of the two bungalows was a foot (0.3m) from the cliff edge.
"I would be getting my valuables together if I lived in one of those properties because personally I wouldn't want to be in there knowing what this sea can do," Mr Hurd said.
"It's devastating for us - we put so much time into our efforts here and it's heartbreaking for us every time we get something like this. ".
Mr Hurd said his crew - which is independent of the Royal National Lifeboat Institution (RNLI) - could not launch its lifeboat because erosion had caused a 6ft drop (1.8m) on the beach.
He said his team received some verbal abuse from the public when it decided to close the beach at about lunchtime on Saturday.