Police have questioned four spectators at the Australian Open after security guards allegedly threatened them and Russian flags were waved.
The tournament has prohibited flying the Russian and Belarusian flags.
At Melbourne Park, however, there were Russian flags, one of which had the image of president Vladimir Putin.
According to a statement from the tournament's organizers, police got involved after Russian Andrey Rublev lost to Serbian Novak Djokovic.
A supporter was also sporting a t-shirt with the letter "Z," which is a supporter of President Putin's invasion of Ukraine.
Images capture the man on Rod Laver Arena being spoken to by an Australian Open representative.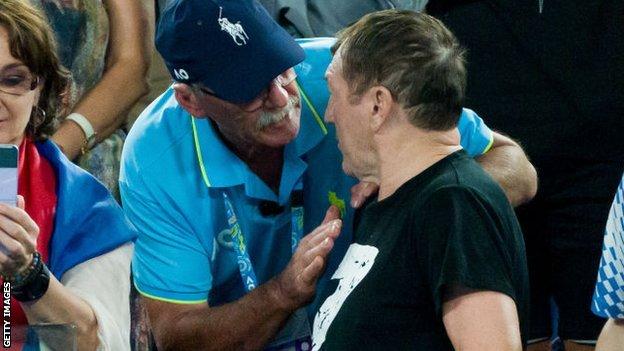 The tournament's organizer, Tennis Australia, issued a statement saying that "four people in the crowd leaving the stadium revealed inappropriate flags and symbols and threatened security guards.".
Police in Victoria intervened and are still questioning them.
"We work closely with security and authorities to ensure everyone's comfort and safety. ".
Since the invasion of Ukraine began in February of last year, Russian and Belarusian athletes have been unable to compete under the flags of their nations in a variety of sports, including tennis.
While competing at the Australian Open under a neutral white flag, athletes from the two nations were completely barred from Wimbledon in 2022.
Russian and Belarusian flags could be brought into Melbourne Park by spectators at the Australian Open as long as they didn't cause "disruption," at first.
However, last week, after spectators waved a Russian flag during a match between Russian Kamilla Rakhimova and Ukrainian Kateryna Baindl, the organizers changed their minds.