The use of artificial intelligence (AI) to help radiologists review thousands of mammograms annually is being tested at Aberdeen Royal Infirmary.
June, a trial participant and healthcare assistant, will have surgery as a result of the pilot's assistance in identifying her early-stage breast cancer.
Low-level X-rays called mammograms are used in breast cancer screenings to track and find changes that are too small to be felt or seen.
Around 1,300 lives are saved annually in the UK, according to the NHS.
And even though more women in Scotland accepted invitations to undergo routine breast screenings over the three years leading up to 2022, there are fewer radiologists available to review the results.
Artificial intelligence (AI), a technology that enables computers to carry out specific tasks that would typically require human intelligence, is already widely used in a variety of fields.
The more practical applications of AI are already being seen in healthcare, despite high-profile experts' recent fears that the technology could wipe out humanity.
Many scientists and medical professionals view AI as a powerful tool to complement practitioners rather than replace them because of its potential to speed up the process of drug and disease discovery.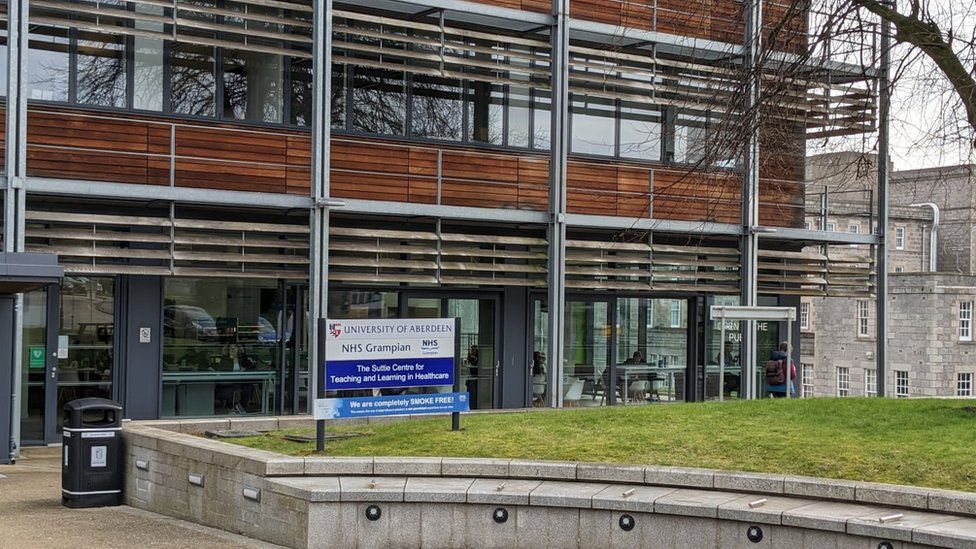 According to data from Public Health Scotland (PHS), there were 1,830 screen-detected breast cancer cases among women of all ages in Scotland between 2021 and 2022.
Between 250 and 300 patients will be called back out of the 5,000 mammograms that radiologists examine on average each year, with 30 to 40 of them needing more in-depth care.
According to Dr. Gerald Lip, clinical director of the North East Scotland Breast Screening Programme, "there is a possibility that you could miss cancers with that number.".
Scotland's AI Strategy, which was released in 2021, made reference to NHS Grampian's Gemini project, a partnership between the NHS, the University of Aberdeen, and private industry.
The AI model Mia used in the trial was created by Kheiron Medical Technologies, and Microsoft provided the cloud computing services needed to support it.
Dr. Lip and other radiologists are testing artificial intelligence (AI) as an additional check at the conclusion of mammogram scan reviews because National Screening Counsel regulations currently prohibit the automatic deployment of AI in screenings.
Following Dr. Lip's explanation of how the AI tool assisted in identifying a problem area, June, a trial participant who had previously undergone a procedure similar to this, had a biopsy performed to remove a small portion of her breast tissue for testing.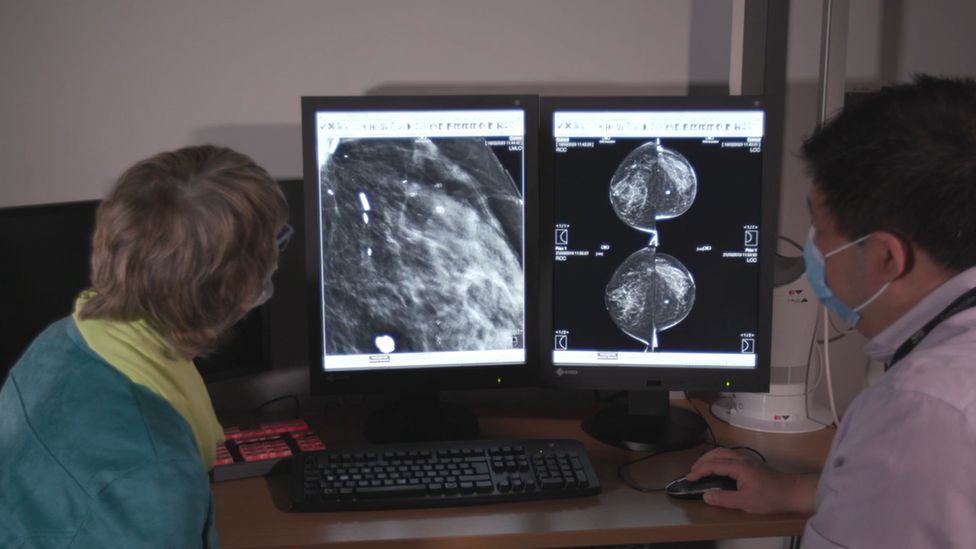 Using anonymized mammogram results, he demonstrated the software's operation to BBC Click.
Right now, he said, "what we're seeing is a lady who has mammograms on both her left and right sides, you're looking for differences.".
Radiologists can view and examine differences between the two scans that the AI identified by clicking a button.
Dr. Lip indicated a particular area that the AI program had circled as the primary cause for concern.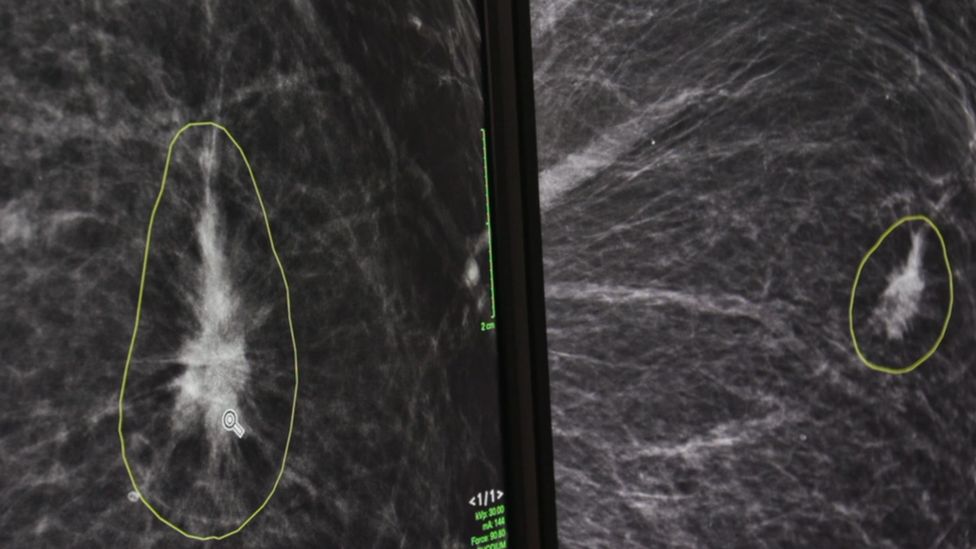 He continued, "When screening, you want to catch things when they are small before they become big.
June explained to Click a few weeks after her biopsy that using AI rather than an additional set of human eyes made the procedure feel less invasive.
You are aware that people are viewing your images on the screen, she said. "However, when it's an artificial intelligence, that slight sense of being watched has vanished. ".
As a result of June's biopsy results, she will require additional surgery.
They have definitely caught it at an earlier stage this time, June said, adding that the biopsy revealed that she does have early-stage cancer. But I'm going to have a mastectomy since I've already dealt with it in the past.
"I don't want to undergo this treatment. However, the fact that it is being caught is also comforting. ".
A significant review of Scotland's breast screening program from the previous year suggested that many radiology and advance practice staff members are approaching or have reached retirement age.
The service, which depends on "super reader" radiologists to review a lot of results, is at risk of becoming "vulnerable," according to the report.
The UK is experiencing "chronic staff shortages," according to the Royal College of Radiologists, and patients are having to wait too long for necessary tests and cancer treatments.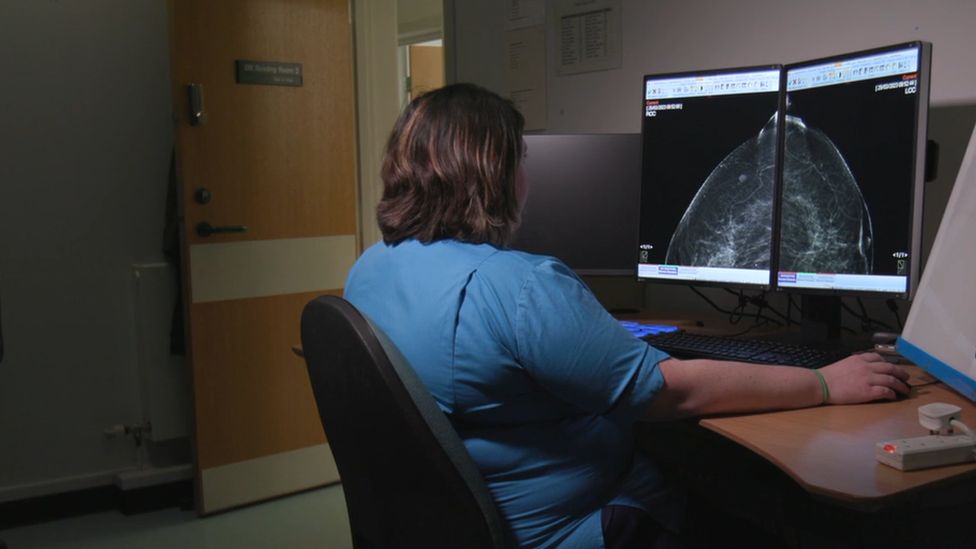 According to the Scottish government's review, replacing one human reader with AI could "cover half of the screening image reading burden of approximately 1.72 million images read each year," where two radiologists are required to read and report results.
But could the technology Aberdeen is testing eventually take the place of employees?
"I believe the purpose of this evaluation is to determine the best way we can work with AI, whether it be replacing one of the radiologists, part-reading some of the routine mammograms, or improving our cancer detection as a safety net," Dr. Lip said.
Over 30 NHS trusts in the UK will use the technology, according to Peter Kecskemethy, co-founder of Kheiron.
The technology appears to continue playing a significant role in assisting doctors in saving lives, with trusts in England already investigating how AI can support better, faster outcomes for breast cancer patients.
The full report and other ways AI is transforming industries are available. on Click's episode from this week.